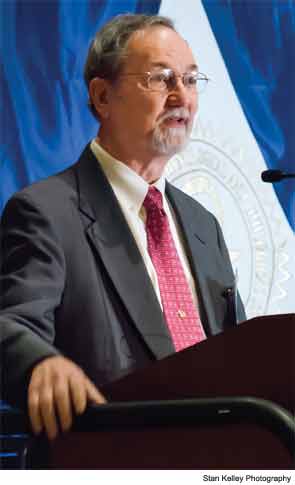 L. Dee Fink, PhD, delivered the keynote address April 13th.

ORLANDO—Medical education, and how to improve the teaching experience, were the focus of the keynote address, given by educational consultant L. Dee Fink, PhD, at the 116th Annual Meeting of the Triological Society, held as part of the Combined Otolaryngology Spring Meetings.
Myriad factions within medical education that are urging those members of academia to make improvements in how they educate, arguing that we need to maximize the effectiveness of our teaching, said Dr. Fink. To accomplish this task, he outlined key issues that should be re-examined:
What we teach;
How we teach; and
How we "gear up" to teach.
What We Teach
Medical practitioners want their students to learn two things: content/knowledge and how to use that knowledge, said Dr. Fink. "I would also argue that, if we want to maximize the quality of the learning, we need a broader range of the kinds of learning that we might want our students to look at."
Through interviews with hundreds of students over several decades, Dr. Fink devised what he calls a "taxonomy of significant learning" that is composed of:
A foundation of knowledge (what you want students to know, information, ideas);
Application (skills and thinking);
Integration (connections and interactions);
The human dimension (what students learn about themselves or about how to interact with others);
Caring (what might be valued differently than before); and
Learning how to become a better learner.
He recommends that medical educators use these foundations to shape learning goals and desired learning outcomes.
How We Teach
If educators rethink what they're trying to get students to learn, said Dr. Fink, they should also rethink how they teach. Medical education is primarily made up of reading, grand rounds and clinical work. "What we're doing is good," he said, "but we need to expand on it."
A common model of teaching is to "transmit knowledge," he said. "Nobody has ever 'transmitted' knowledge. They never have and never will, because it just doesn't work that way." You can transmit information, he said, and students construct their own knowledge from the information you're giving them, either individually or through dialogue in small groups
"If you control that dialogue effectively, the chances of people gaining a correct understanding of that information and being able to validly do something with it goes way up," he said. Consequently, there's a lot of interest in using small groups to create that structured social dialogue.
How We "Gear Up"
If we want to learn how to teach in a more powerful way, the first thing we have to do is think differently about how we prepare to teach, said Dr. Fink, adding that educators need to spend time learning about some ideas on teaching.
There are three ways of learning, he said: through our own learning experience, by sharing with colleagues and learning from the literature on college teaching. In the 1990s, Dr. Fink said, books started coming out with some very powerful ideas on college teaching, including ideas on how learning occurs, designing the learning experience itself, more powerful learning activities, assessment, teaching strategies and managing special situations, such as engaging large classes.
Incorporating any of these ideas into practice would make a huge difference in the quality of someone's teaching, he said. The problem is that these ideas aren't yet common in the practice of teaching in the medical profession, even though they've been around for 20 years, he added.
"If we work in a medical school, we have to remember we are also professional medical educators," he said. "And if we are professional, we take full responsibility for doing the very best job we possibly can, and part of doing that means we have to take our own professional development as teachers—not just as subject matter specialists, but as teachers—very, very seriously."
To achieve this, he said, educators need to be familiar with the latest literature on teaching techniques, and they need to put those ideas into practice. He urged audience members to embrace the idea of continuous improvement of their teaching skills, just as they spend every year improving their medical knowledge.
"If we're going to teach," he said, "we need to learn the things we need to learn that will allow us, will enable us, to teach as effectively as we possibly can." If educators do that, he added, the way they teach is going to change.
"If we teach in this way, what our students learn from us is going to change. While they're in medical school, they're going to be more engaged, they're going to have a more significant learning experience, and when that happens, once they graduate, they're going to be new kinds of practitioners," he said. "They'll be able to do their clinical work more effectively, they're going to be able to work with their patients more effectively [and] more collaboratively, they're going to be able to be public advocates for recruiting health care services and, finally, they're going to also be able to work on the goal of professional wealth."