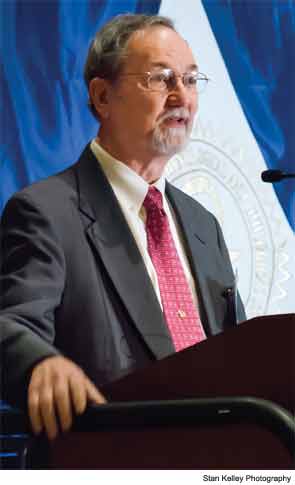 L. Dee Fink, PhD, delivered the keynote address April 13th.

ORLANDO—Medical education, and how to improve the teaching experience, were the focus of the keynote address, given by educational consultant L. Dee Fink, PhD, at the 116th Annual Meeting of the Triological Society, held as part of the Combined Otolaryngology Spring Meetings.
Myriad factions within medical education that are urging those members of academia to make improvements in how they educate, arguing that we need to maximize the effectiveness of our teaching, said Dr. Fink. To accomplish this task, he outlined key issues that should be re-examined:
What we teach;
How we teach; and
How we "gear up" to teach.
What We Teach
Medical practitioners want their students to learn two things: content/knowledge and how to use that knowledge, said Dr. Fink. "I would also argue that, if we want to maximize the quality of the learning, we need a broader range of the kinds of learning that we might want our students to look at."
Through interviews with hundreds of students over several decades, Dr. Fink devised what he calls a "taxonomy of significant learning" that is composed of:
A foundation of knowledge (what you want students to know, information, ideas);
Application (skills and thinking);
Integration (connections and interactions);
The human dimension (what students learn about themselves or about how to interact with others);
Caring (what might be valued differently than before); and
Learning how to become a better learner.
He recommends that medical educators use these foundations to shape learning goals and desired learning outcomes.
How We Teach
If educators rethink what they're trying to get students to learn, said Dr. Fink, they should also rethink how they teach. Medical education is primarily made up of reading, grand rounds and clinical work. "What we're doing is good," he said, "but we need to expand on it."
A common model of teaching is to "transmit knowledge," he said. "Nobody has ever 'transmitted' knowledge. They never have and never will, because it just doesn't work that way." You can transmit information, he said, and students construct their own knowledge from the information you're giving them, either individually or through dialogue in small groups
"If you control that dialogue effectively, the chances of people gaining a correct understanding of that information and being able to validly do something with it goes way up," he said. Consequently, there's a lot of interest in using small groups to create that structured social dialogue.