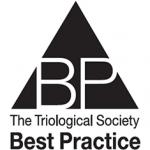 TRIO Best Practice articles are brief, structured reviews designed to provide the busy clinician with a handy outline and reference for day-to-day clinical decision making. The ENTtoday summaries below include the Background and Best Practice sections of the original article. To view the complete Laryngoscope articles free of charge, visit Laryngoscope.
Background
Drooling, or sialorrhea, is a common problem among patients with cerebral palsy. The prevalence ranges from 37% to 58%. Drooling occurs when an individual's ability to control and swallow oral secretions is limited. Common contributing factors include poor oropharyngeal coordination; dysphagia; poor posture or head position; dental abnormalities including malocclusion, nasal, or oropharyngeal obstruction; and gastroesophageal reflux. Patients may present with anterior drooling, posterior drooling, or both. Anterior drooling is defined as saliva spilled from the mouth that is clearly visible. This can have a significant medical and psychosocial impact on our patients and their families, including social rejection, damage to personal belongings, social isolation, frequent damp clothing, local skin irritation, and halitosis. Patients with posterior drooling, which occurs when saliva spills through the oropharynx and into the hypopharynx, can have serious medical consequences, including chronic aspiration leading to progressive lung disease.
Multiple interventions aimed at reducing or eliminating drooling have been described. These include physical and behavioral therapies, oral appliances, medications, botulinum toxin injections, and surgery. To date, there has been no clear consensus on which treatments of drooling are the safest and most effective. The goal of this review is to determine the role of botulinum toxin injections in the management of pediatric sialorrhea.
Pages: 1 | 2 | Single Page