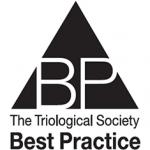 TRIO Best Practice articles are brief, structured reviews designed to provide the busy clinician with a handy outline and reference for day-to-day clinical decision making. The ENTtoday summaries below include the Background and Best Practice sections of the original article. To view the complete Laryngoscope articles free of charge, visit Laryngoscope.
Background
Thyroid cancer is the most common endocrine malignancy, with differentiated thyroid cancers (DTC) (papillary and follicular) comprising more than 90% of the malignancies and papillary thyroid cancer (PTC) being the most common. About 66,000 new cases were expected to be diagnosed in 2016 alone. Patients with PTC usually have an excellent prognosis, and the standard of care is surgery followed by radioactive iodine when indicated. With the advent of molecular testing, BRAF mutation was identified as the most common mutation in PTC. However, its role in the diagnosis or prognosis of PTC has not yet been clearly defined. The American Thyroid Association (ATA) guidelines (2015)1 Recommendation 48 states that "While not routinely recommended for initial postoperative risk stratification in DTC, the mutational status of BRAF, and potentially other mutations such as TERT, have the potential to refine risk estimates when interpreted in the context of other clinico-pathologic risk factors. (Weak recommendation, Moderate-quality evidence)." This review will focus on the role of BRAF and other mutational analysis in PTC.
Best Practice
The current guidelines do not conclusively recommend the use of mutational testing as a tool for prognosticating or diagnosing a PTC patient. However, based on the large retrospective study and meta-analysis, it is evident that BRAF does predict recurrence and unfavorable characteristics in DTC. Its strength as an isolated predictor for diagnosis and prognosis of PTC cannot be confirmed with the available data. Mutational analysis at this time does not influence the decision regarding extent of thyroidectomy, prophylactic neck dissection, or radioiodine therapy. The clinical and pathological findings are robust to make those decisions in an individual case. However, for nodules that have atypical or suspicious cytology, mutational testing can be undertaken if expected to help the surgeon decide for or against surgical intervention (Laryngoscope. 2018;128:1–2).