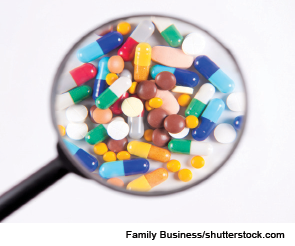 There is no overall consensus on what constitutes medication therapy "failure" in patients with CRS. Thus, deciding on which patients are solid candidates for ESS can be difficult, experts note. But several practical guideposts do exist for making the determination.
Dr. Kennedy said the first step is to remember that "the primary therapy for chronic sinusitis is medical therapy; surgery really should be adjunctive to our best efforts to clear CRS with a well-considered drug regimen."
And this is not coming from a physician who is anti-surgery: Dr. Kennedy pioneered the use of ESS for chronic sinusitis in the United States. "Unfortunately, there sometimes is a failing of understanding that drug therapy needs to run its full course" before reaching for the endoscope, Dr. Kennedy told ENTtoday. In fact, not giving drugs their due course may be a partial explanation for the steep uptick in sinus surgeries in recent years, he said.
Don't Neglect Post-Operative Care
The downsides to neglecting drug therapy are considerable. "One of the worst things you can do is open up the sinuses in a patient who has ongoing environmental factors that are not well controlled, because you are exposing virgin mucosa to the same environmental factors that caused the disease in the first place," Dr. Kennedy said. In such a scenario, he explained, "the whole inflammatory process can start again but at a much deeper level, resulting in even worse disease."
But that doesn't mean that all of the clinician's attention needs to be focused on pre-operative medications. Based on his clinical experience, as well as two studies that were among the first to document long-term follow-up of ESS, post-op drug therapy is just as crucial to ensuring that patients derive the most benefit from the surgery (Laryngoscope. 1992;102 [12 Pt 2 Suppl 57]:1-18; Laryngoscope. 1998;108:151-157).
That therapy, Dr. Kennedy noted, might frequently include "oral steroids in the early post-operative period, as well as topical steroids, other anti-inflammatory drugs, and in some cases, the new steroid-eluting implants." Antibiotics also will be part of the regimen, he noted.
Perhaps most importantly, drug therapy must be optimized "years and years after sinus surgery is completed," Dr. Kennedy stressed. This is a key point, he added, "because as a profession, we are not as good at doing the chronic care that is required for a chronic disease as we should be." Given the fact that most patients with CRS develop the disease as children or young adults, CRS "is a chronic disease of 30, 40, and sometimes even 50 years' duration," he said. "So your management approach needs to account for this long-term time horizon."