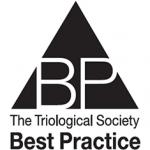 TRIO Best Practice articles are brief, structured reviews designed to provide the busy clinician with a handy outline and reference for day-to-day clinical decision making. The ENTtoday summaries below include the Background and Best Practice sections of the original article. To view the complete Laryngoscope articles free of charge, visit Laryngoscope.
Background
The decision to treat adult condylar fractures through closed or open techniques is one of the greatest debates within maxillofacial trauma. This controversy stems from the complexity of biomechanical principles of the posttraumatic temporomandibular joint (TMJ). Closed treatment (CTr) restores occlusion but does not anatomically reduce fractured segments and involves maxillo-mandibular fixation with functional therapy. Closed treatment has become a popular choice due to largely satisfactory clinical data and low surgical risk; however, complications of varying severity are reported. On the other hand, open surgical treatment increases risk of facial nerve damage and scarring. Much of the published data lacks consistency in study design, selection criteria, outcome measures, follow-up, and ultimately detection of complications. Biased interpretation of such data precludes a clear treatment strategy. What exactly is the evidence for open versus closed treatment of adult condylar fractures?
Best Practice
There is sound evidence to support that ORIF leads to better functional and subjective outcomes in cases with moderately deviated condylar fractures and/or > 2-mm ramus height shortening, shortened intracapsular fractures, and bilateral condylar fractures. These outcomes must be weighed against potential for facial nerve injury. Closed treatment presents a risk for condylar remodeling, resorption, and functional disturbances, but it can nonetheless achieve satisfactory outcomes (Laryngoscope. 2016;126: 2423–2425).