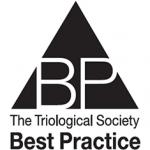 TRIO Best Practice articles are brief, structured reviews designed to provide the busy clinician with a handy outline and reference for day-to-day clinical decision making. The ENTtoday summaries below include the Background and Best Practice sections of the original article. To view the complete Laryngoscope articles free of charge, visit Laryngoscope.
Background
Frontal sinus fractures account for 5% to 15% of all facial fractures and are most commonly due to high velocity, blunt force injuries such as motor vehicle accidents and blunt interpersonal violence. These fractures are often associated with intracranial injury and other facial fractures. Approximately half of frontal sinus fractures are limited to the anterior table. The remaining fractures involve both the anterior and posterior table, and isolated fractures of the posterior table are very rare. Patients with frontal sinus outflow tract (FSOT) injuries have three times more concomitant facial fractures than those without. Indications of FSOT obstruction include fracture of the floor of the frontal sinus, fracture of the medial aspect of the anterior table, and gross obstruction. Complications of FSOT obstruction include mucocele formation and chronic frontal sinusitis as a result of anatomic obstruction.
The treatment goals of frontal sinus fracture repair include maintenance of normal sinus function, avoidance of short- and long-term complications, and preservation of an aesthetic facial contour. Potential treatment of these fractures has traditionally included observation, open reduction, and internal fixation, obliteration, cranialization, ablation/exenteration (removal of anterior wall, mucosa, supraorbital rims, and proximal nasal bones to allow skin retraction to posterior wall or dura), or osteoneogenesis (mucosal stripping, frontal outflow tract sealing, and preservation of sinus cavity with delayed healing as scar tissue and bone fill the cavity). The latter two options have largely been relegated to history as they are associated with increased complication rates and, in the case of ablation/exenteration, significant cosmetic deformation. For fractures with significant posterior table comminution, displacement, or persistent cerebrospinal fluid (CSF) leak, cranialization or obliteration have historically been recommended. For fractures that involve the FSOT, frontal sinus obliteration at the time of the fracture repair has traditionally been recommended. With the advent and success of endoscopic techniques to maintain frontal recess patency, treatment options have evolved, and there continues to be controversy regarding the need for obliteration for fractures involving the FSOT.
Pages: 1 | 2 | Single Page