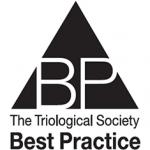 TRIO Best Practice articles are brief, structured reviews designed to provide the busy clinician with a handy outline and reference for day-to-day clinical decision making. The ENTtoday summaries below include the Background and Best Practice sections of the original article. To view the complete Laryngoscope articles free of charge, visit Laryngoscope.
Background
Sigmoid sinus thrombosis (SST) remains a rare but serious intracranial complication of acute mastoiditis. Primary treatment includes surgical drainage by mastoidectomy and broad-spectrum antibiotic therapy. The role of anticoagulation remains controversial. Potential benefits include limiting thrombus propagation, improved sinus recanalization, and reduction in neurological sequelae. These benefits must be considered against potential risks, including intracranial hemorrhage, which is particularly significant in the context of patients who may require further staged surgical intervention.
If a decision is made to anticoagulate, uncertainty exists regarding selection and duration of appropriate agents. Heparin has been the traditional mainstay. However, whereas newer direct oral anticoagulants (DOACs) have transformed the management of lower limb deep-venous thrombosis and pulmonary embolism, their role in SST remains unclear.