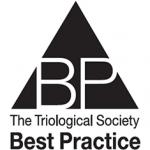 TRIO Best Practice articles are brief, structured reviews designed to provide the busy clinician with a handy outline and reference for day-to-day clinical decision making. The ENTtoday summaries below include the Background and Best Practice sections of the original article. To view the complete Laryngoscope articles free of charge, visit Laryngoscope.
BACKGROUND
Chronic rhinitis (CR) affects ~60 million people per year and can dramatically impair a patient's quality of life. CR can be divided into allergic, nonallergic (including vasomotor), and mixed subtypes. Approximately 10% to 22% of these patients are refractory to medical treatment (Laryngoscope. 2020;130:1877-1884). Given that many symptoms of nonallergic rhinitis are thought to be secondary to parasympathetic dysfunction, targeted ablation of the posterior nasal nerves (PNN) has emerged as an effective treatment option.
For patients with a vasomotor etiology of CR, the pathophysiology explaining PNN ablation's efficacy is clear; however, until recently, the evidence was less clear for those suffering from allergic etiologies, as these are characterized by the release of proinflammatory mediators in response to allergens, which occurs independently of parasympathetic activation. This Best Practice review seeks to answer whether in-office PNN ablation is also an effective treatment for the symptoms of allergic rhinitis (AR).
BEST PRACTICE
Although the number of randomized controlled trials (RCTs) is lacking, given the consistency of earlier prospective single-arm cohort studies, combined with the support of newer well-designed RCTs, there is enough evidence to support PNN as an effective treatment for allergic rhinitis symptoms, particularly nasal congestion and rhinorrhea.
Given the favorable side effect profile of in-office PNN, there appears to be a role for cryoablation or radiofrequency neurolysis in treating symptoms of AR. Future studies should confirm these findings with additional RCTs using sham control procedures, longer follow-up, and larger and more diverse patient populations.