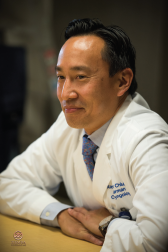 Having now lived in the Midwest for the past two years after a lifetime on the coasts, I have found a few things that have taken me by surprise. One, the land is not all flat. Two, I have yet to see a tornado. And three, there are great restaurants that serve more than just BBQ.
But perhaps my most pleasant surprise is witnessing the generosity of spirit and charitable giving that imbues my home community. Just about every physician I have met has been on a medical mission, and our campus recently announced a "Winter Holidays in October" event, during which volunteers from the medical center will be working on the yards and homes of surrounding elderly neighbors to get their homes ready for the winter.
This spirit is not unique to Kansas City. In 2014, the U.S. shared the top ranking with Myanmar on the Charities Aid Foundation World Giving Index. The World Giving Index rates countries on three key charitable giving behaviors: volunteering time, donating money, and helping a stranger. And despite the fact that we routinely do all three behaviors in our day job, physicians contribute to this lofty ranking and are generous with their time and resources outside of work. In 2004, one study indicated a 54% participation in providing health-related expertise to a community organization (JAMA. 2004;291:94). A survey of 601 physicians who participated in pro bono activities indicated that 72% performed activities domestically and 32% provided services abroad in lower and middle-income countries. (J Compassionate Health Care. 2015;2:8).
Many of these activities can be related to religious organizations. In a post on physician charitable giving in The White Coat Investor (November 28, 2016), an Atlanta internal medicine physician named Earl Stewart quoted scripture as a reason for his charitable work: "to whom much is given, much is required." No matter the religious denomination, I think we can all understand and embrace that sentiment. Being a physician has an honored position within society, and with that comes responsibility.
We are dedicating this issue of ENTtoday to the otolaryngologists who give back to their communities. Whether it is volunteering through their church organizations, embarking on medical missions abroad, or helping disadvantaged children in local schools, otolaryngologists around the country are making a difference that goes beyond the patients they treat in their practices. On behalf of the editorial board, thank you to all who donate their time, efforts, and resources to make our communities a better place.