Between 2012 and 2017, an otolaryngologist in central North Carolina was the nation's top-paid Medicare provider of balloon sinuplasty. But all was not as it seemed.
Anita Louise Jackson, MD, performed 1,555 balloon sinuplasty surgeries on 919 Medicare beneficiary patients with fewer than 40 balloon dilation devices. According to the U.S. Department of Justice, Dr. Jackson lured patients by marketing "free sinus spas" and induced patients to undergo sinuplasties they may not have needed by intentionally failing to charge co-pays.
In January 2023, Dr. Jackson was convicted on 10 counts of illegally inducing her patients to receive sinuplasty and found guilty on charges of adulterating medical devices for use on patients with intent to defraud and mislead, fabricating medical and healthcare records, paying illegal renumerations, and engaging in mail fraud and conspiracy. She was ordered to forfeit more than $4.7 million dollars and sentenced to 25 years in prison.
The Jackson case is a gross example of medical device misuse. But what about less egregious cases? Is using a microflow spacer to deliver steroids to the sinuses medical device misuse, if the device is only FDA approved to deliver saline? What about performing an in-office thyroid ultrasound on a patient with abnormal thyroid function test results?
The line between appropriate and inappropriate use isn't always bright and clear cut. Medical practice (and billing) evolves with new technology and research. Busy physicians do their best to keep up with advancing science and certainly don't have time to personally review all new clinical research and each of their billing statements.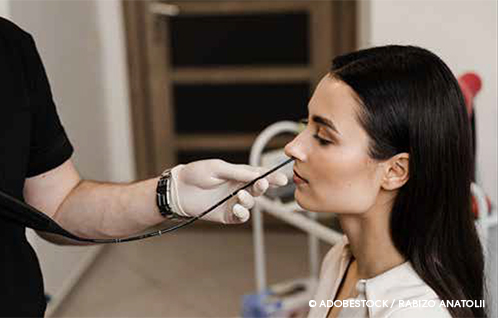 "The vast majority of physicians and otolaryngologists in this country are honest and ethical and want to do the right thing for their patients," said Rodney Schlosser, MD, professor and director of rhinology at the Medical University of South Carolina in Charleston. Most otolaryngologists use medical devices as outlined in clinical practice guidelines. Some extend the boundaries of medical practice by intentionally (and thoughtfully) using medical devices off label. Some doctors unwittingly charge payors for unapproved uses of devices. And a few engage in clear misconduct.
Dramatic outliers, such as Dr. Jackson, generate headlines and concern. Yet detecting and reining in medical device misuse is a challenge in a society that prizes profit, innovation, autonomy, and productivity.
Profit Motive May Encourage Misuse
Balloon sinuplasty is a potentially lucrative procedure. "It can be potentially very easy to make a profit," said Nicholas Rowan, MD, associate professor of otolaryngology—head and neck surgery at Johns Hopkins Medicine in Baltimore. As of 2014, reimbursement for balloon sinuplasty surgery was approximately 10 times greater than for functional endoscopic sinus surgery. Additionally, a single-use balloon can be used to open multiple sinuses in a single patient, and Medicare, Medicaid, and most private insurance companies will cover balloon dilation once per sinus per the beneficiary's lifetime.
"As an example, if you balloon dilate one sinus, you may be able to break even; however, if you find pathology in six different sinuses, you may go from no profit or minimal profit to several-fold times what you would have had," Dr. Rowan said, while noting that balloon sinuplasty is an extremely useful tool that allows physicians to access and treat pathology that might otherwise require expensive, difficult-to-access subspecialist care.
Because the procedure is profitable, easy to perform, and generally well-tolerated, the number of balloon sinuplasties performed in the United States skyrocketed over the last 15 years or so. The push toward pay-for-performance may also be a factor.
"You have a workforce that's perhaps being incentivized to be more productive," Dr. Rowan said. "That's a challenging predicament for people who are really trying to do the right thing."
Providers can also be impacted by the need to turn a profit and please investors. That may be what happened when Acclarent allegedly caused healthcare providers to submit false claims to Medicare and other federal healthcare programs by marketing and distributing its Relieva Stratus MicroFlow Spacer for use as a drug delivery device without FDA approval for that use (https://www.justice.gov/usao-ma/pr/medical-device-manufacturer-acclarent-inc-pay-18-million-settle-false-claims-act).
"The goal for a start-up company is to make eight to 10 times the investors' investment in three to five years," said Melayna Lokosky, a former Acclarent sales rep turned whistleblower who shared information with the Department of Justice (DOJ) showing that Acclarent actively encouraged its sales reps to promote the Stratus spacer as a steroid-delivery device to be used with Kenalog-40, which is intended for injection into living tissue.
Because it's common for otolaryngologists and other physicians to use drugs and devices off label—and because steroids are routinely used to decrease inflammation—Acclarent's marketing of the Stratus spacer didn't initially attract concern. Sales reps realized, though, that the device, which was approved for use with saline, didn't work for that purpose.
"We all knew that if you put saline in it, it ran out instantly. So, we felt bad selling it on label because we knew it didn't work on label," Lokosky said. She believes "it was decided and built into the business model from inception: We need doctors to use this off label." The DOJ investigation, she said, "could not find a single device that was used on label."
In 2016, Acclarent, a subsidiary of Johnson & Johnson, agreed to pay $18 million to resolve the allegations against the company.
Who Decides Appropriate Use?
Physicians have a legal duty to provide a certain standard of care to their patients (CMAJ. 2010;182:167–170). And according to the American Medical Association Code of Medical Ethics, physicians individually and collectively share the obligation to ensure that the care patients receive is safe, effective, patient centered, timely, efficient, and equitable.
You have a workforce that's perhaps being incentivized to be more productive. That's a challenging predicament for people who are really trying to do the right thing. — Nicholas Rowan, MD