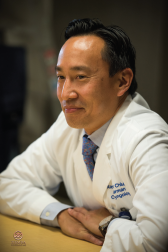 Man, I love summer. Early mornings and late nights. Kids' sporting events. Hanging out at the pool. Theater in the park, blockbuster movies, music festivals, World Cup Soccer and baseball on the television every single night. Summer food and drinks are the best. Hot dogs and brats, gelato, fresh strawberries, Sancerre, and mango melon fruited beer are just some of my personal warm-temperature favorites.
What summer also brings are the long family vacations. Like many physicians, I usually only take seven days off at a time. And although I often wish I was more adventurous like our European and Australian colleagues who routinely take a month off, the one-week family vacation is the sweet spot for me. Long enough to feel like I am getting away from work and short enough that I don't get hit with a ton of bricks on that first week back at work.
During that vacation, I look forward to the summer offerings of my two new favorite authors, Brad Thor and Daniel Silva. I preface this by mentioning I am a terrible reader. I can't get through more than a third of most books I pick up, and even when I finish a book, it often takes me months to do so. This is in contrast to my wife, who can read a 500-page book in one sitting. But the aforementioned authors write action thriller books that I find extremely entertaining, and can finish within a week. They are also two of the most popular writers in our country, who each write one book a year and whose legions of fans mark their calendars for their book releases.
As I was ordering their books to get ready for our summer vacation, it got me thinking about the great writers we have in otolaryngology. These are our colleagues whose papers are must reads. Their papers are often incredibly insightful, well written, and have near-perfect scientific methodology. They also have impeccable integrity, and you know they wouldn't put their name on an article unless they truly believed in the study.
So I asked the ENTtoday editorial board to give me some must-read authors for every subspecialty and a sentence on what makes their articles so good.
Laryngology—Lucian Sulica: "He has an incredible writing style and prose; he was an English major, and his papers read like literature."
Sleep—Kathy Yaremchuk and Eric Kezirian: "Thought leaders who attempt to apply rigorous methodology to investigate sleep surgery (something that is often sorely lacking)."
Pediatrics—Kaalan Johnson and Ellen Deutsch: "Pioneering in the education world with pediatric simulation."
Rhinology—Tim Smith and Richard Harvey: "High quality and always clinically useful."
Head and Neck—Carole Fakhry and Louise Davies: "Their research/editorials are always thoughtful, give me new insights, and are well done."
Quality Improvement—Sarah Bowe and Karthik Balakrishnan: "Well written and well performed."
Facial Plastics—Steve Dyan. "Has a regular editorial in Facial Plastic Times; great writer and also very relevant content."
Ethics—Richard Holt: "A person who epitomizes selflessness and a higher moral standard. As I read his piece, I know it is not just prose but a reflection of his heart and soul. He inspires me."
That looks like a great list to me, and I couldn't agree more with the opinions of our editorial board. Happy summer reading, and I hope everyone has a restful and joyful summer. Look forward to talking soon, 
—Alex