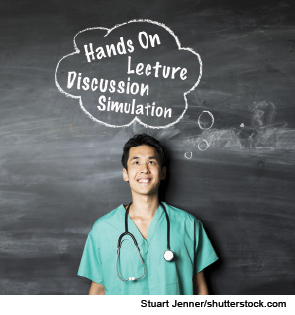 These days, teaching residents seems to be all about doing more with less.
Nasir I. Bhatti, MD, FACS, FRCS, MHS, recalls his exhausting days as a resident at Johns Hopkins University in Baltimore, where he and his fellow residents often worked more than 100 hours a week. But this all changed in 2011 when the Accreditation Council for Graduate Medical Education (ACGME) passed new standards that limited the resident workweek to 80 hours.
The result? "[Residents] have at least one-third less time to learn because the overall length of training is the same, but they have more things to learn: new technology, new operations like endoscopic sinus surgery, robotic surgery," said Dr. Bhatti, associate professor of otolaryngology-head and neck surgery and the director of Johns Hopkins Adult Tracheostomy Services in the department of anesthesiology critical care medicine at Johns Hopkins University School of Medicine in Baltimore. "The bottom line in surgical training is, 'How do we make the learning curve for individual residents more efficient?'" he said.
To be a more effective educator, you have to understand that not all residents learn the same, Dr. Bhatti said. That's why, over the last few years, he and other academic physicians have been at work assessing residents' learning styles and adapting the curriculum to the way their students say they learn best.
Learning Styles
In 1970, educational theorist David A. Kolb, PhD, published descriptions of four main learning styles (Acad Manag Learn Edu. 2005;4:193-212):
1 Accommodating (active): Prefers to work with others and learn through "hands on" experience.
2 Converging (practical): Prefers practical uses for ideas, including simulations and laboratory assignments.
3 Diverging (imaginative): Prefers to work in groups and receive personalized feedback.
4 Assimilating (inductive): Prefers readings, lectures, exploring analytical models.
Dr. Bhatti suggests that for each new class of residents, residency directors should distribute Kolb's Learning Style Index, a 12-item questionnaire. (The questionnaire, which takes approximately 15 to 20 minutes to complete, can be purchased at learningfromexperience.com/tools.)
In a paper published in 2011 in The Laryngoscope, Dr. Bhatti and colleagues used the survey to assess the learning styles of a group of pediatric otolaryngology and otology/neurotology fellows from Johns Hopkins (121:2548-2552). Ten pediatric otolaryngology and 20 otology/neurology fellows completed the survey, with a majority of them reporting that they preferred a learning style that incorporated all four learning styles. The rest preferred converging, accommodating, or a combination of the two.