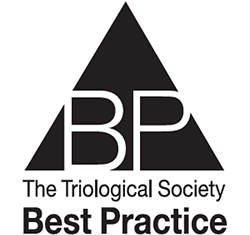 TRIO Best Practice articles are brief, structured reviews designed to provide the busy clinician with a handy outline and reference for day-to-day clinical decision making. The ENTtoday summaries below include the Background and Best Practice sections of the original article. To view the complete Laryngoscope articles free of charge, visit Laryngoscope.com.
BACKGROUND
Congenital laryngeal clefts are a rare airway anomaly characterized by failure of the development of the tracheoesophageal septum and the posterior cricoid lamina. A Benjamin-Inglis type 1 laryngeal cleft (T1LC) is a defect in the interarytenoid groove to the level of the vocal folds involving the interarytenoid musculature.
T1LC may present in infancy or childhood with dysphagia, aspiration, recurrent respiratory infections, or chronic cough. There is significant debate in the literature on diagnosis and the ideal approach to treatment when sequelae are present, including conservative management, interarytenoid injection augmentation (IIA), and endoscopic repair with suture closure (ER) (Otolaryngol Head Neck Surg. 2021;164:489–500; Laryngoscope. 2021;131:2805–2810).
BEST PRACTICE
T1LC in children requires management when patients present with symptoms of dysphagia, aspiration, or recurrent respiratory infections. Based on current evidence, conservative management, including thickened liquids, reflux management, and feeding therapy, results in improvement of symptoms in >50% of children, although the duration of expectant management is debated.
IIA is safe and can be considered in place of a conservative treatment to determine which patients are likely to improve from ER, and may result in permanent improvement or resolution in a minority of patients. ER is the definitive surgery for T1LC and may be performed with cold steel or CO2 laser. ER results in the greatest rate of lasting symptom improvement and resolution, although it is associated with higher complication rates than IIA and conservative therapy. The current quality of evidence is poor, and future research may better elucidate the role of conservative management and the timing of IIA and EA.