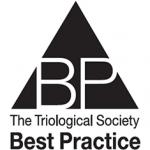 TRIO Best Practice articles are brief, structured reviews designed to provide the busy clinician with a handy outline and reference for day-to-day clinical decision making. The ENTtoday summaries below include the Background and Best Practice sections of the original article. To view the complete Laryngoscope articles free of charge, visit Laryngoscope.com.
Background
Pediatric chronic rhinosinusitis (CRS) is broadly defined as 90 or more uninterrupted days of respiratory symptoms with corresponding endoscopic and/or computed tomography (CT) scan findings. It is a common yet difficult problem in the pediatric population. Otolaryngologists agree on initial medical management with nasal saline irrigations, nasal steroid sprays, and an antibiotic directed at the most common sinonasal pathogens. The majority of pediatric patients do not require surgery for CRS.
In children with sinus disease refractory to medical therapy, there is controversy regarding surgical management. Surgical options include adenoidectomy and endoscopic sinus surgery (ESS). The goal of surgery is to improve quality of life and prevent further disease. It is preferable to avoid the need for additional or revision surgeries. This review describes the evidence regarding the role of the adenoid in pediatric CRS. Of note, pediatric CRS associated with cystic fibrosis, immunodeficiency, nasal polyposis, allergic fungal disease, and/or ciliary dyskinesia is generally not treated with adenoidectomy alone; these patients are excluded from the discussion below.
Best Practice
Based on the current evidence, bacteria harbored within adenoid biofilms contribute to pediatric CRS, even in the absence of obstructive adenoid hypertrophy. Adenoidectomy is a reasonable first-line surgical option for pediatric patients with CRS that is refractory to medical therapy. The majority of studies that examine the role of adenoidectomy alone for pediatric CRS are limited to younger patients; therefore, its role in adolescents has yet to be determined.
This is a difficult topic with many directions for future research. A prospective study with a validated quality-of-life questionnaire and long-term follow-up is necessary to define which subgroup of pediatric patients benefit from adenoidectomy alone (Laryngoscope. 2015;125:1282-1283).