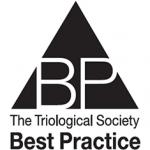 TRIO Best Practice articles are brief, structured reviews designed to provide the busy clinician with a handy outline and reference for day-to-day clinical decision making. The ENTtoday summaries below include the Background and Best Practice sections of the original article. To view the complete Laryngoscope articles free of charge, visit The Laryngoscope.
BACKGROUND
Vocal fold motion impairment (VFMI) is a well-recognized complication following thyroidectomy. The incidence of recurrent laryngeal nerve (RLN) injury varies from 1.8% to 13.3% (Head Neck. 2006;28:1106-1114). VFMI can be very debilitating for patients, resulting in dysphonia, dysphagia/aspiration, dyspnea, and decreased cough strength. Although bedside laryngoscopy (BL) remains the gold standard for evaluation of vocal fold motion, there is no universally accepted consensus on the timing of and threshold for performing BL following surgery. Furthermore, using vocal quality alone has been shown to underestimate the true incidence of VFMI (Head Neck. 2006;28:1106-1114). Postoperative evaluation by BL may facilitate closed-loop communication with patients (which should follow a careful and detailed preoperative discussion of surgical risks and benefits), may validate patients' postoperative concerns, and may provide valuable technical feedback to the surgical team. As most patients with VFMI will be symptomatic and a significant percentage will be left with permanent paralysis, frank and open recognition of the complications and development of an appropriate post-discharge mitigation strategy for symptomatic patients that upholds the principles of beneficence and nonmaleficence should be implemented.
Herein, we review five published studies (see Table I) to investigate the question of timing and necessity of laryngoscopy following thyroidectomy. Given the important prognostic and therapeutic implications of identifying VFMI early in the postoperative course, should BL be routinely performed following thyroidectomy?
Table 1: Summary of Evidence for Routine FFL Following Thyroidectomy.
Author
Year
Study Design
No.Patients in Study
Methods/Timing of Laryngoscopy
Level of Evidence
Recommendation
Haugen et al.2
2016
Evidence-based clinical
practice guideline
N/A
Clinical practice guidelines generated by task
force panel members
1
Perform voice assessment at 2 wk
to 2 mo post-operatively
Dhillon et al.3
2018
Retrospective cohort study
1547
Patients undergoing thyroid/ parathyroid surgery
by single high-volume surgeon with FFL preoperatively
and POD 0
2
Perform immediate post-operative laryngoscopy
Dionigi et al.4
2010
Prospective review
453
Patients undergoing thyroid surgery with FFL pre-operatively, POD 0, POD 2, and 2-wk post-operatively
1
Perform post-operative laryngoscopy, preferably at POD 2
Schlosser et al.5
2007
Prospective review
763
Patients undergoing thyroid surgery with FFL pre- and post-operatively at POD 2 or 3
1
Do not perform post-operative laryngoscopy in asymptomatic patients
de Pedro Netto et al.1
2006
Prospective review
100
Patients undergoing thyroid surgery with FFL, VHI,
and acoustics pre- and 2 wk post-operatively
1
Perform post-operative laryngoscopy
FFL = Flexible fiberoptic laryngoscopy; POD = post-operative day; VHI = Voice Handicap Index.
BEST PRACTICE
The role and timing of routine BL following thyroidectomy remain controversial. Postoperative VFMI, which results in symptoms including dysphonia, dysphagia/aspiration, dyspnea, and decreased cough strength, may be a source of considerable distress to patients. Early recognition and multidisciplinary management with vocal fold augmentation, voice and swallowing therapy, and/or involvement of a speech language pathologist may be important strategies to improve outcomes in these patients, such as a more rapid return to work. Given the low risk, cost, and morbidity of a laryngeal examination—and the potential significant harm to patients when VFMI is missed—routine laryngoscopy should be performed as early as possible in all patients following thyroid surgery.