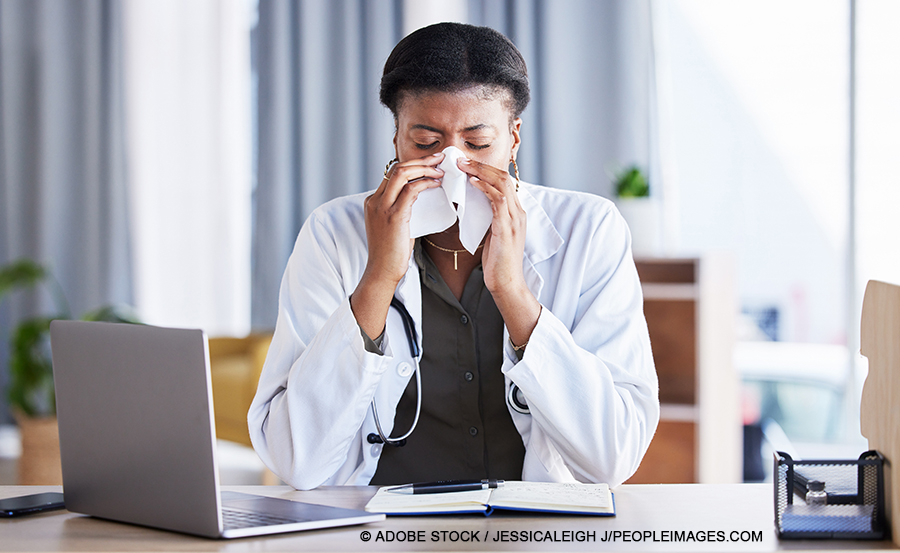 According to a 2022 Medscape survey (www.wb.md/3YEAcLB) of 2,347 U.S. physicians, 85% came to work sick in 2022. In the last pre-pandemic year (2019), about 70% came to work feeling sick one to five times, and 13% worked while sick six to 10 times.
"Most physicians have a tremendous work ethic—otherwise they wouldn't be where they are today," said John T. McElveen, Jr., MD, otolaryngologist and president of Carolina Ear and Hearing Clinic in Raleigh, N.C. "In addition, many patients have waited quite some time to have their surgery and physicians don't want to disappoint them by cancelling it."
In Medscape's survey, the majority of physicians cited professional obligations as the main reason for not taking a sick day; 73% noted that they felt an obligation to their patients and 72% felt an obligation to their co-workers. Half of the physicians said they didn't feel bad enough to stay home, while 48% said they had too much work to do to stay home.
Some 45% of survey participants said the expectation at their workplace is to come to work unless seriously ill; 43% had too many patients to see and 18% didn't think they were contagious when they headed to work sick. Because they would lose pay, 15% chose to work while sick.
Bradford Holland, MD, an attending otolaryngologist at the ENT Clinic Ascension Providence in Waco, Texas, had similar sentiments to those expressed by the physicians in Medscape's survey. "When many of us were in surgical training programs, missing work or rounds for cold symptoms wasn't tolerated," he said. "We powered through; it was part of our culture. If I didn't do the work, then my coworkers would have to do it and I hated to put that burden on them."
When physicians don't feel well, Richard V. Smith, MD, professor and university chair of otorhinolaryngology–head and neck surgery at Montefiore Health System and Albert Einstein College ofMedicine in Bronx, N.Y., said they will typically do a personal assessment on how sick they feel and whether it's reasonable to see patients. "Oftentimes, not feeling well is unrelated to something transmissible—such as back pain, headaches, or injuries—so they usually try to deal with those symptoms and still see patients," he said.
Taking Sick Time When You're Employed
Some good news is that sick time offered by employers has improved in the last 10 years, Dr. Holland said. "Hospital employers are more understanding and willing to grant the same sick policies that they've had for other personnel to physicians," he said. "A greater percentage of hospital physicians are becoming employed, so those benefits now apply to a greater number of doctors." He's quick to point out that HR policies typically aren't the main motivator of whether a physician who doesn't feel well shows up for work.
Regarding whether physicians are incentivized by their payment systems to work rather than take sick time, Dr. Smith doesn't believe that's the case. "Not all salaried plans are tied to the number of patients seen," he said. "I never felt that this was ever a reason to avoid taking sick days when warranted."
Conversely, Julie Wei, MD, MMM, professor of otolaryngology–head neck surgery at the University of Central Florida College of Medicine in Orlando, said some physician compensation plans incentivize unrealistic targets without any consideration for human factors. "Budgets and relative value unit targets are created with a focus on how to achieve financial targets purely from a business perspective," she said.
Being Sick at a Private Practice
As a physician who works in a private practice and has 10 employees, Dr. McElveen said the practice depends on him to generate income. "In the rare event that I'm unable to see patients due to illness, patients typically reschedule and I end up doing additional procedures on subsequent days to accommodate them," he said. "Consequently, the practice is minimally impacted."
When many of us were in surgical training programs, missing work or rounds for cold symptoms wasn't tolerated. We powered through; it was part of our culture. — Bradford Holland, MD