In the late 1980s, Deborah Freehling, MD, a facial plastic surgeon in Northern California, had just finished her residency. The hospital was no longer her second home. Suddenly, she was in an 8:30 to 5:30 job. She had time to spare a foreign concept.
On her time off, she started volunteering for the Redwood City Police Department, removing tattoos from former gang members to ease their transition back into mainstream society and boost their chances of finding jobs. She developed an affection for people—especially young people—who wanted a clean slate, a do-over for a decision they now regretted.
Incorporating tattoo removal into her otolaryngology practice would seem to have made sense, but that didn't happen right away. "Back then, the lasers were just awful; they were CO2 lasers, extremely painful. They burned the skin; they scarred the skin," she said. She was equally unimpressed by subsequent lasers.
Then, last year, Dr. Freehling learned about a new type of laser that delivers energy in bursts that are shorter in duration than those of older lasers. While traditional lasers rely on heat, these lasers shatter tattoos into tiny particles that the body can eliminate.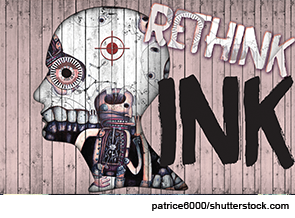 Dr. Freehling is now performing tattoo removal in her practice, entering a market that has been on the rise. A 2012 Harris Interactive Poll found that 21% of adults in the United States have a tattoo, up 7% from four years earlier. The same poll found that 14% of people with tattoos regret having received one.
Opportunity might exist for otolaryngologists who want to add tattoo removal to their practices. But those with experience say that careful planning is needed to fit the procedure into your overall scheme and that the large financial expenditures involved make it a decision that shouldn't be made lightly. If the market isn't right, it might not be a good idea at all.
Dr. Freehling added tattoo removal to her practice approximately a year and a half ago. She had the money to spend, and it was largely a matter of deciding to do something that she enjoys. "It was a time in my life when I was still busy, very busy, and doing surgery, but realized that as I get older I am not going to want to be doing five-hour, six-hour cases," she said. "I thought, How can I combine something that I really enjoy doing with something that helps people and feels useful, while I'm cutting back on my heavy surgical load?" She also wanted to choose a procedure she could hire a nurse practitioner to assist with if she got too busy, so that she could still offer the service at her practice while not having to always perform it herself.