In the late 1980s, Deborah Freehling, MD, a facial plastic surgeon in Northern California, had just finished her residency. The hospital was no longer her second home. Suddenly, she was in an 8:30 to 5:30 job. She had time to spare a foreign concept.
On her time off, she started volunteering for the Redwood City Police Department, removing tattoos from former gang members to ease their transition back into mainstream society and boost their chances of finding jobs. She developed an affection for people—especially young people—who wanted a clean slate, a do-over for a decision they now regretted.
Incorporating tattoo removal into her otolaryngology practice would seem to have made sense, but that didn't happen right away. "Back then, the lasers were just awful; they were CO2 lasers, extremely painful. They burned the skin; they scarred the skin," she said. She was equally unimpressed by subsequent lasers.
Then, last year, Dr. Freehling learned about a new type of laser that delivers energy in bursts that are shorter in duration than those of older lasers. While traditional lasers rely on heat, these lasers shatter tattoos into tiny particles that the body can eliminate.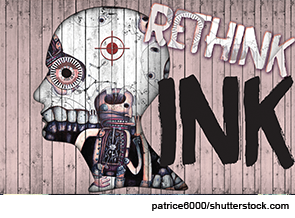 Dr. Freehling is now performing tattoo removal in her practice, entering a market that has been on the rise. A 2012 Harris Interactive Poll found that 21% of adults in the United States have a tattoo, up 7% from four years earlier. The same poll found that 14% of people with tattoos regret having received one.
Opportunity might exist for otolaryngologists who want to add tattoo removal to their practices. But those with experience say that careful planning is needed to fit the procedure into your overall scheme and that the large financial expenditures involved make it a decision that shouldn't be made lightly. If the market isn't right, it might not be a good idea at all.
Dr. Freehling added tattoo removal to her practice approximately a year and a half ago. She had the money to spend, and it was largely a matter of deciding to do something that she enjoys. "It was a time in my life when I was still busy, very busy, and doing surgery, but realized that as I get older I am not going to want to be doing five-hour, six-hour cases," she said. "I thought, How can I combine something that I really enjoy doing with something that helps people and feels useful, while I'm cutting back on my heavy surgical load?" She also wanted to choose a procedure she could hire a nurse practitioner to assist with if she got too busy, so that she could still offer the service at her practice while not having to always perform it herself.
In 2014, Cynosure (Westford, Mass.) introduced a handpiece for its PicoSure laser that allows the laser to be used for acne, scar removal, skin tightening, and other cosmetic procedures. The laser is expensive: Dr. Freehling spent approximately $330,000, including taxes, and a maintenance agreement adds another $17,000 a year. But, she said, she has already covered her initial investment. "Patients are really, I think, happy with it," she said.
Potential Drawbacks
Steven Dayan, MD, a facial plastic surgeon in Chicago, has had a different experience with tattoo removal. He has tried it—not once, but twice—only to abandon it both times, though he adds that it can be right for some practices. "I thought it made a lot of sense," he said, noting that a lot of people between the ages of 25 and 35 have tattoos.
With the laser he used, he found that, in many cases, the results were not sufficient to make tattoo removal a consistent part of his practice. "Patients have to follow up and in the past when we would offer this, the patients wouldn't follow up that much," Dr. Dayan said. "You'd think they would, but it's a lot of commitment to it, and we'd be lucky to get people to come in for more than two or three treatments. Unless your product's good, you can only get so far."

Tattoo removal with the right laser can be successful, but … it takes a strong concerted effort in marketing—in addition to time and labor—to make it work for a practice.
—Steven Dayan, MD
He still performs tattoo removal in easier-to-remove cases when directly approached by a patient, but he no longer markets for it. And he won't perform the procedure on the more professionally applied tattoos with intricate designs and an array of colors.
But he stressed that it is possible, under the right circumstances, for physicians to incorporate tattoo removal into their practices, as long as it's undertaken carefully. "Tattoo removal with the right laser can be successful, but the lasers on the market are very pricey, and it takes a strong, concerted effort in marketing—in addition to time and labor—in order to make it work for a practice," Dr. Dayan said. "I didn't find success, but others have and do."
Physicians who find that tattoo removal isn't right for them but want to add new cosmetic services to their practices have alternatives, he said. "Why not just put the time, energy, and effort into a neurotoxin or a filler treatment? It's a lot easier to do, a lot less expensive to invest into it, and more likely to return happier patients."
Lee Kleiman, MD, a facial plastic surgeon in Severna Park, Md., said he went down the same path as Dr. Dayan but never felt satisfied with the procedure. "It was always a problem getting people in, because they would get frustrated after six treatments, eight treatments, and they still had a tattoo," he said. "And they just wouldn't show up [for appointments], or they just would cancel. … The average person who was getting these tattoos off didn't really have the means to keep coming for 10, 15 times to get their tattoo taken off."
Then, like Dr. Freehling, he learned about the PicoSure, and has found the results to be much better—and worth keeping in his practice. "We were all of a sudden going from telling people, 'You need 10 to 15 treatments,' [to] getting clearance of tattoos in anywhere from four to six treatments." He said the laser can struggle with reds, and he frequently refers patients with bright reds to other practitioners with Q-switched lasers, which use a different laser technique and tend to perform better with that color.
What really makes the laser worth the expense and time is its ability, with the handpiece, to perform skin tightening and other procedures without the downtime for the patient that other lasers cause, Dr. Kleiman said. "What we found out after we discovered this other application and how effective it was in terms of its results and the patient acceptance of the procedure, is that it generated as much patient interest and volume as the tattoo [removal]," Dr. Kleiman said.
No matter how commonplace tattoos become, the market for their removal will always be finite because of the expense. "Laser tattoo removal, it's a limited business," he said. "Because someone comes in, they have a tattoo the size of an index card and you're charging them $300 to $400 to take that off, and they need four to six treatments. They have to be willing to invest—and to really not like that tattoo."
---
Thomas Collins is a freelance medical writer based in Florida.