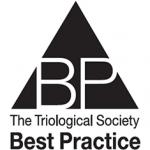 TRIO Best Practice articles are brief, structured reviews designed to provide the busy clinician with a handy outline and reference for day-to-day clinical decision making. The ENTtoday summaries below include the Background and Best Practice sections of the original article. To view the complete Laryngoscope article free of charge, visit Laryngoscope.

Background
Malignant otitis externa (MOE), or skull base osteomyelitis, is an aggressive infection that predominantly affects elderly, diabetic, or immunocompromised patients, and is associated with high disease-specific mortality. MOE is suspected in the setting of external otitis associated with granulation tissue and pain; biopsy is obtained to rule out malignancy. CT and/or MRI imaging is useful to delineate bony and soft tissue involvement, respectively. MOE diagnosis is supported by a positive methylene diphosphonate (MDP)-technetium-99 m (Tc99m) bone scan and Gallium-67 (Ga67) scan. Sequential Ga67 scans have been traditionally used to assess antibiotic therapy response. More recently, concern has been raised regarding the accuracy and cost-effectiveness of the current imaging paradigm for diagnosis and treatment response assessment in MOE.
Best Practice
Tc99m and Ga67 nuclear studies have historically been used to diagnose and monitor MOE disease progression, respectively. However, the sensitivity and specificity of these studies is more limited than once imagined. Furthermore, they provide little anatomic detail, entail high costs and radiation exposure, and are not widely available. By contrast, CT and MRI are widely available and afford excellent anatomic resolution but are neither sufficiently sensitive nor specific as standalone modalities. 18F-FDG-PET/CT is a promising hybrid imaging modality for diagnosing and assessing treatment response in MOE. Future prospective trials comparing 18F-FDG-PET to traditional nuclear imaging paradigms in the management of MOE are necessary.