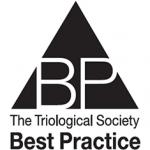 TRIO Best Practice articles are brief, structured reviews designed to provide the busy clinician with a handy outline and reference for day-to-day clinical decision making. The ENTtoday summaries below include the Background and Best Practice sections of the original article. To view the complete Laryngoscope articles free of charge, visit Laryngoscope.
Background
The forehead flap is a time-honored regional flap that has been used in nasal reconstruction for centuries. The flap is traditionally divided in a second stage three to six weeks after initial flap elevation and transposition into the defect to be reconstructed. Strengths of the forehead flap include excellent success rates due to the use of a vascular pedicle and well-matched tissue type. Disadvantages include the need for a second surgery and the unwieldy time period during which the patient has the flap pedicle from the eyebrow to the nose, with a negative impact on the patient's quality of life. Division of a forehead flap earlier than the standard three weeks is therefore a desirable goal if similar aesthetic and functional outcomes can be accomplished without compromising flap viability.
Best Practice
Earlier forehead flap division can have a positive influence on patient quality of life and is a cost-effective option. To shorten the time to forehead flap division, the surgeon should balance individual patient and nasal defect characteristics with the physiologic point of when the viability of the flap will not be adversely affected by the flap division. Evidence with indocyanine green angiography at the time of flap division supports safe and reliable flap division at two to three weeks in certain patients.