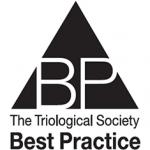 TRIO Best Practice articles are brief, structured reviews designed to provide the busy clinician with a handy outline and reference for day-to-day clinical decision making. The ENTtoday summaries below include the Background and Best Practice sections of the original article. To view the complete Laryngoscope article, visit Laryngoscope.
BACKGROUND
Single-sided deafness (SSD), defined as profound hearing loss in one ear accompanied by normal hearing in the contralateral ear, has detrimental effects on multiple aspects of hearing. Potential etiologies for SSD include congenital hearing loss, vestibular schwannoma, Ménière's disease, and sudden sensorineural hearing loss, among others.
For patients desiring intervention, there are more options than ever for management of SSD, including contralateral routing of sound, bone conduction hearing devices, and cochlear implantation. Over the past several decades, the technologies for all three strategies have improved and will likely continue to do so. Advances in regenerative medicine may also lead to novel treatment strategies. Patients often seek intervention in hopes of improving speech-in-noise, sound localization, tinnitus, or a combination thereof; thus, the right treatment for SSD varies based on individual goals or considerations. Providers must interpret the evolving literature and determine a practical approach to counseling SSD patients about their options. In this best practice summary, we sought to evaluate the state of the literature in management of SSD and provide a framework with which to counsel patients.
BEST PRACTICE
Current options for hearing rehabilitation offer different advantages to patients with SSD, and no single modality is clearly superior to the others on objective or subjective measures. Thus, management recommendations should be tailored to the patient based on specific occupational or medical considerations, and counseling should include thorough assessment of patient goals and expectations.