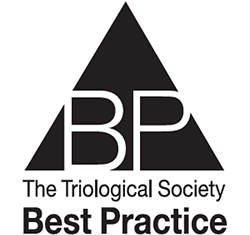 TRIO Best Practice articles are brief, structured reviews designed to provide the busy clinician with a handy outline and reference for day-to-day clinical decision making. The ENTtoday summaries below include the Background and Best Practice sections of the original article. To view the complete Laryngoscope articles free of charge, visit Laryngoscope.com.
BACKGROUND
Tranexamic acid (TXA) is an antifibrinolytic agent used to reduce the dissolution of blood clots. It has FDA-approved applications in the management of heavy menstrual flow and in minimizing blood loss in surgical procedures such as tooth extractions in patients with hemophilia. Many off-label uses have also been described including infiltration to minimize bleeding and ecchymosis during surgery, improve the appearance of dark under-eye pigmentation, and increase survival after trauma.
The use of TXA to reduce intraoperative bleeding may have applications in septorhinoplasty. TXA may reduce intraoperative bleeding, ecchymosis, and hematoma and could decrease complications during surgery and increase perioperative surgeon satisfaction and postoperative patient satisfaction. Measures of patient and surgeon satisfaction are subjective. Quantitative measures, including blood loss, are difficult to measure and prone to error.
This review examines the current literature involving the use of TXA in facial aesthetics, specifically septorhinoplasty.
BEST PRACTICE
The use of tranexamic acid in septorhinoplasty has shown a reduction in intraoperative and postoperative bleeding, ecchymosis, and edema, though there is a lack of consensus relating to dose and means of administration. There are potential risks and side effects associated with the systemic administration of TXA, including nausea, vomiting, blurred vision, headache, and thromboembolism. As of publication, best practice appears to support a mild benefit to the use of TXA in septorhinoplasty.