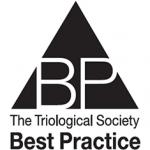 TRIO Best Practice articles are brief, structured reviews designed to provide the busy clinician with a handy outline and reference for day-to-day clinical decision making. The ENTtoday summaries below include the Background and Best Practice sections of the original article. To view the complete Laryngoscope articles free of charge, visit Laryngoscope.
Background
Over the years, many alternative surgical approaches, so-called "remote-access" techniques, have been described for thyroid surgery, driven by cosmetic concerns. Such techniques have used both endoscopic and robotic approaches from different body sites, including the axilla, breast, and retro-auricular regions. These are considered by many to be overly cumbersome, costly, and unnecessary, however, particularly given the generally good cosmetic results and complication rates achieved with open thyroidectomy (OT). Certain complications, such as the possibility of brachial plexus injury in the transaxillary approach, have made surgeons wary of such remote-access techniques. 
In the past several years, a novel transoral approach has been developed. Initial studies attempted to utilize a sublingual incision in the floor of the mouth for endoscopic access to the thyroid. This specific approach never gained much traction; however, a relatively new approach, solely using the oral vestibule (transoral endoscopic thyroidectomy by vestibular approach), has become increasingly popular around the world, including in Western countries where remote-access thyroid surgery has largely been shunned in the past.
Best Practice
Transoral thyroidectomy can be safely performed in a select group of patients. The transoral vestibular approach has unique advantages over previously described remote-access approaches for thyroidectomy. This approach compares favorably to traditional open approaches in very carefully selected patients. Transoral thyroidectomy is reasonable to offer patients who meet specific criteria (see Table 1). Caution is advised in certain patients until further studies are available, as the current evidence is low quality. Regardless, this emerging technique warrants further study. All patients should be informed of the complications specific to transoral thyroidectomy, including the possibility of conversion to OT.
Suggested Surgical Candidacy Criteria
Indications
Contraindications
Further study needed
Medically fit
Patient wants to avoid cervical scar
Favorable anatomy
Benign nodule or low suspicion of malignancy: <6 cm nodule diamete
Micropapillary carcinoma or high suspicion of malignancy: <1 cm
Total thyroid diameter <10 cm
Previous neck/chin surgery or radiation
Overt or suspicion of extrathyroidal extension
Lymph node metastasis
Oral abscess
Substernal goiter
Obese patients
Grave's disease, thyroiditis, hyperthyroidism
Central neck dissection
Completion thyroidectomy
Differentiated thyroid cancer 1–2 cm