When patients with allergic rhinitis don't respond to medical therapy, an otolaryngologist's arsenal of treatment includes surgical options. Among these is radiofrequency (RF) turbinate reduction, also known as RF turbinate ablation or turbinoplasty, an office procedure that advocates say is cost-effective and minimally invasive, with fewer complications than other surgical remedies. Some otolaryngologists, however, are still hesitant to use this relatively new therapy.
Now, a new study takes a look at the long-term results of RF turbinoplasty. The research by Lin and colleagues reports five-year outcomes of RF turbinate surgery, showing that the procedure is both effective and safe for allergic rhinitis patients who are refractory to medical therapy (Arch Otolaryngol Head Neck Surg. 2010;136(9):892-895).
"Although the patient outcome of RF turbinoplasty declines with time, we found that the improvement in symptom scores in the group as a whole was still significant five years after the surgery," said Hsin-Ching Lin, MD, the study's first author and an otolaryngologist at the Chang Gung Memorial Hospital-Kaohsiung Medical Center, Kaohsiung, Taiwan. "Our experience has been encouraging overall, and the procedure has become our first surgical treatment choice for allergic rhinitis."
The retrospective review included 146 patients who underwent RF turbinoplasty during the period lasting from February 2000 to April 2003 at the Chang Gung Memorial Hospital-Kaohsiung Medical Center. The authors found no adverse reactions such as bleeding, infection, recurrent epistaxis, synechiae, nasal dryness, bone necrosis, atrophic rhinitis or olfactory change. A favorable response was defined as improvement of at least one of the common allergic symptoms without worsening of any of the remaining allergic symptoms, along with patient satisfaction with the surgical results. Of the allergic patients, 57.4 percent said they would have the same procedure performed again.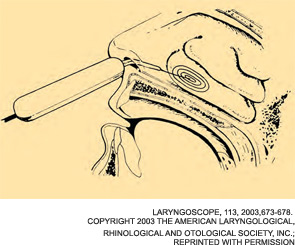 Sagittal view of radiofrequency energy being delivered. The active 10-mm portion of the electrode and at least 2 mm of the insulation are inserted submucosally within the anterior portion of the inferior turbinate and an ovoid lesion is created.
The authors noted in their paper that "because RF is a minimally invasive technique, it does not preclude patients from undergoing secondary laser turbinectomy, submucosal resection of the turbinate, or other traditional procedures." A previous study by Lin and colleagues followed 108 patients from February 2000 through April 2002 with similar efficacy and safety results (Laryngoscope. 2003;113(4):673-8).
Mixed Reactions
In interviews, otolaryngologists noted some of the limitations of the current study.