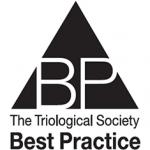 TRIO Best Practice articles are brief, structured reviews designed to provide the busy clinician with a handy outline and reference for day-to-day clinical decision making. The ENTtoday summaries below include the Background and Best Practice sections of the original article. To view the complete Laryngoscope articles free of charge, visit Laryngoscope.
Background
Chronic rhinosinusitis with nasal polyposis (CRSwNP) in aspirin-exacerbated respiratory disease (AERD) represents a severe chronic rhinosinusitis (CRS) phenotype with increased sinonasal inflammation and worse health-related quality-of-life (HRQoL) compared to CRSwNP without aspirin sensitivity. Conventional treatment strategies frequently fail to control this recalcitrant form of airway inflammation, with 37% of patients requiring revision endoscopic sinus surgery (ESS) within 5 years of their first procedure. Aspirin desensitization represents a treatment option for patients with AERD, with associated benefits extending beyond those seen with strict acetylsalicylic acid avoidance. However, broad utilization remains limited due to heterogeneous outcome studies, availability, and concerns of adverse reactions associated with long-term therapeutic daily aspirin therapy.
Best Practice
Aspirin desensitization is indicated for the treatment of CRSwNP in AERD following revision ESS. Desensitization is cost-effective, with several high-quality studies demonstrating improved disease control and HRQoL following desensitization, with <3% of patients experiencing minor adverse reactions with low-dose maintenance protocols. Further study is necessary to identify factors associated with successful desensitization, with determination of the most appropriate dosage of daily aspirin therapy (Laryngoscope. 2017;127:776–777).