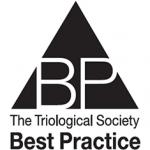 TRIO Best Practice articles are brief, structured reviews designed to provide the busy clinician with a handy outline and reference for day-to-day clinical decision making. The ENTtoday summaries below include the Background and Best Practice sections of the original article. To view the complete Laryngoscope articles free of charge, visit Laryngoscope.com.
Background
Nasal saline irrigation is a common component of chronic rhinosinusitis (CRS) management. The benefits of irrigation
have been noted in primary and postoperative management of CRS. The irrigation consists of physiologic saline solution applied into a nostril via a squeeze-bottle, a bulb syringe, or a neti pot. As the saline flows through the nasal cavity from anterior to posterior, then into the nasopharynx and contralateral nasal cavity, it washes out mucus and potential irritants. The efficacy of nasal saline irrigation has been demonstrated, with improvement shown in the endoscopic appearance as well as symptom scores in CRS patients. However, it has recently been shown that a large proportion of irrigation bottles have evidence of bacterial contamination.
Pages: 1 | 2 | Single Page