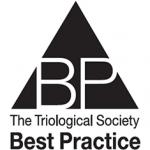 TRIO Best Practice articles are brief, structured reviews designed to provide the busy clinician with a handy outline and reference for day-to-day clinical decision making. The ENTtoday summaries below include the Background and Best Practice sections of the original article. To view the complete Laryngoscope articles free of charge, visit Laryngoscope.
Background
The Eustachian tube ventilates the middle ear, and its dilatory dysfunction leads to the development of middle ear diseases such as acute otitis media, otitis media with effusion (OME), tympanic membrane (TM) retraction pockets, and cholesteatoma. Although knowledge of the ear's Eustachian tube function is essential for assessing the likely success of any middle ear surgery, no test is considered gold standard for diagnosis of Eustachian tube dysfunction. Otoscopy and pneumatic otoscopy are initial, quick techniques for clinically assessing Eustachian tube function. If one ear has a TM perforation, however, it can be difficult to assess the function of its Eustachian tube because pneumatic otoscopy and tympanometry are unhelpful. In these cases, many otolaryngologists will infer the state of the Eustachian tube on the side of the perforation from that of the contralateral intact one.
Best Practice
Although there is little physiologic data comparing Eustachian tube function in each ear, clinically relevant information can be gleaned from studies on surgical outcomes. A normal pneumatic otoscopic exam of the contralateral ear, for instance, may predict increased success with myringoplasty. Until the development of novel tests of Eustachian tube function in the presence of a perforation, clinicians should use the status of the contralateral ear as a guide for clinical decision making, keeping in mind that Eustachian tube function can differ between ears (Laryngoscope. 2017;127:1491–1492).