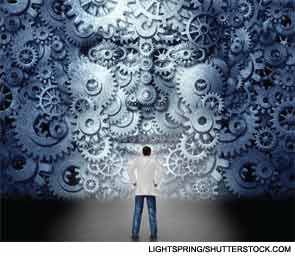 Otolaryngologists need only look at their inboxes to see the demand they command. Messages beckon from recruiters, professional acquaintances and even prospective employers pitching job openings as the next big gig. The constant barrage of opportunities can leave you wondering if there really is something better out there—and if you're getting the most out of your current job.
One way to answer these types of questions is to conduct a formal career assessment to invetory what is and isn't working in a career and examine how that career fits into a person's overall life at that point in time, said Cezanne Allen, MD, a certified physician development coach based in Bainbridge Island, Wash.
Physicians dissatisfied with their jobs should seek out the source of their frustration, said Dr. Allen. Is it the quality of work, workload, types of patients, patient interaction, practice development, medical knowledge limitations, lack of enjoyment, staff support, reimbursement or work environment? "It's asking myself where I see the problem and then following it up with, 'What does that tell me about what I really want?'" Dr. Allen said.
"As a doctor, you have made a big investment in your career, so if you're not pleased with how it's working out, don't wait too long to consider making a change," said Craig Derkay, MD, professor and vice chair of the department of otolaryngology-head and neck surgery at Eastern Virginia Medical School in Norfolk. But he stresses that physicians shouldn't restrict career evaluations to times of dissatisfaction. "Even if you do enjoy what you are doing, you should evaluate where you are and where you want to be in a few years and [ask yourself] if you can accomplish your goals in your current practice situation or if they would require a change."
You've Got Personality
Career assessments are as individual as the person conducting them, but there are some specific elements that otolaryngologists should consider. A behavioral profile or personality test is extremely helpful for physicians wanting to understand what their natural "hard-wiring" is when it comes to learning, problem-solving and communication, said Francine Gaillour, MD, MBA, executive director of the Physician Coaching Institute in Bellevue, Wash., a company that links doctors and health care teams with certified career coaches. Career coaches can be a good option, particularly for otolaryngologists who are struggling with significant change. Coaches do more than assist with resumes and interview strategies, said Dr. Gaillour. They help people align their careers with their values, strengths, passions and goals so that they can reach their full potential as a professional and a person. Coaches also advise on how to strategically plan a career and help physicians build career resilience, she said.