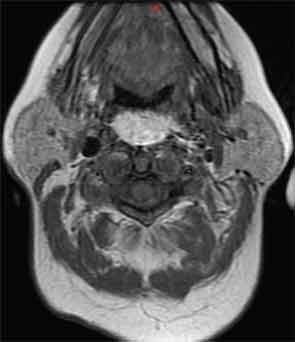 Figure 1a, 1b. Axial and sagittal contrast-enhanced computed tomography of the neck displays a 8.3 x 4.4-cm low-density retropharyngeal mass.
Presentation: A 64-year-old female presented to the emergency department complaining of shortness of breath. This patient stated that she has had some progressive dyspnea and dysphagia for approximately six months. Physical examination revealed an afebrile female with tachypneic respirations and no stridor. Flexible fiberoptic exam revealed an obstructive submucosal process emanating from the retropharynx extending to the level of the epiglottis and obscuring the endolarynx.
The patient was quickly brought to the operating suite where flexible fiberoptic intubation was attempted, but visualization was obstructed secondary to the mass. A tracheotomy was then performed after the patient underwent rapid respiratory decompensation.