If you ask the question whether we need electronic medical records, the answer is going to be a resounding 'Yes,' said Bradley F. Marple, MD, Professor and Vice Chairman of the Department of Otolaryngology, University of Texas Southwestern Medical Center, Dallas. It's the trend, it's going to be at the forefront of pay for performance, and it's one of those outcome measures that will be required of all of us.
D. Thomas Upchurch, MD, Co-Founder and Chief Medical Director of AllMeds, Inc., Oak Ridge, Tenn., which provides specialty-specific electronic medical record (EMR) and practice management systems to practicing physicians, noted that the general advantages of electronic medical records (EMR) include immediate, efficient, and documented communication. Dr. Upchurch, an otolaryngologist, used EMR in his office for seven years before ceasing his practice two years ago. It makes for much smoother and quieter office management operations, he said.
What are the advantages and disadvantages for implementing EMR, specifically as they relate to communicating directly with patients?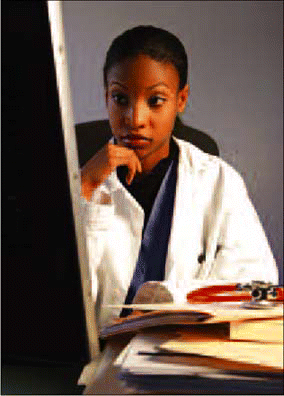 click for large version
Figure. Advantages of electronic systems include immediate, efficient, and documented communication; security and confidentiality concerns must be addressed, however.
Advantages and Drawbacks of Electronic Communications
Valley ENT, PC, in Scottsdale, Ariz., uses a variety of forms of electronic communications, including instant messaging, standard e-mail, and a less stringent messaging component with their EMR, said George E. Smaistrla Jr., the practice's Chief Executive Officer.
With each system and methodology, we have had to enforce protocols with the employees. Employees today are very proficient in instant messaging and the use of 'slang' or text abbreviations, especially given the common use of text messaging on phones, he said. Although the phrase CUL8R (i.e., See you later) or LOL (i.e., laugh out loud) makes sense when using a cell phone or instant messaging, any message that is ultimately transferred into a medical record must be coherent and easily read.
Second, said Mr. Smaistrla, staff members sometimes write fast, send fast-and read later. Responses are often not well thought out or well thought through (think 'flaming emails'). This phenomenon has obliged Mr. Smaistrla and his colleagues to retrain their younger staff in proper messaging techniques. The good news is that a younger workforce quickly adapts and prefers these alternative means of communications, so they quickly adopt them.
Another positive outcome, said Mr. Smaistrla, is that our physicians like the idea of accessing issues and messages from anywhere, not just when they return to the office. Downtime between surgical cases means staff questions about patient issues can be addressed to simplify life and better manage time in the clinic.