Contralateral routing of signals (CROS) hearing aids and the bone-anchored cochlear stimulator, or the Baha® system (Cochlear Americas, Centennial, CO), are standard treatments for unilateral hearing loss. Although each device has its advantages and disadvantages, Baha appears to be the preferred option due to better hearing quality and patient comfort, according to the physicians interviewed for this article.
CROS Indications and Contraindications
Traditional CROS consists of a microphone worn in the hearing-impaired ear and a receiver worn in the hearing ear. Sounds are then transmitted from the microphone to the hearing ear via a wire or wireless system.
CROS is indicated when a patient has one ear that-owing to high thresholds or poor speech discrimination-is not amenable to direct or air-conducting amplification, but whose opposite ear is still capable of hearing, said John K. Niparko, MD, George T. Nager Professor in the Department of Otolaryngology-Head and Neck Surgery at Johns Hopkins University in Baltimore.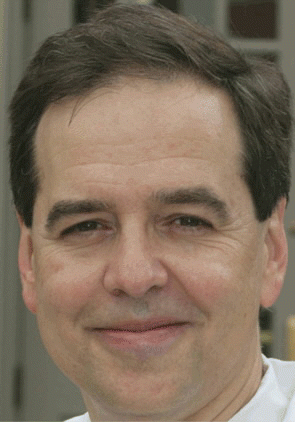 One of the things that I find astounding is that close to 50,000 Bahas are in use worldwide, and just three years ago the number was under 10,000.
-John K. Niparko, MD
Contraindications for CROS include bad hearing in both ears and not being able to accommodate the microphone because of a closed ear canal or infection, said Darius Kohan, MD, Clinical Associate Professor in the Department of Otolaryngology at New York University School of Medicine. CROS is also difficult to use in patients who may have eczema in their ear canals, because the space around the microphone and receiver need to be clean.
A newer form of CROS, a transcranial system called TransEar® (TransEar, Johnson City, TN) consists of a small behind-the-ear digital hearing aid, which is joined by a thin flexible connector wire to a miniature oscillator that fits deeply and snuggly into the ear canal, according to manufacturer's Web site (www.transear.com ).
The device sends sound vibration through the bony portion of the ear canal, through the bones of the skull to the inner ear or cochlea on the opposite side, explained Dr. Kohan.
One advantage of the transcranial CROS over the traditional CROS is that the patient does not need to wear a receiver in the good ear, said Jack Wazen, MD, of the Florida Ear and Sinus Center in Sarasota.
Baha Indications and Contraindications
The Baha consists of a sound processor attached to an external abutment, held in place by a titanium screw, which is surgically implanted into the skull behind the ear. The bone carries vibrations that bypass the external and middle ear and travel directly to the cochlear nerve.