Figure 1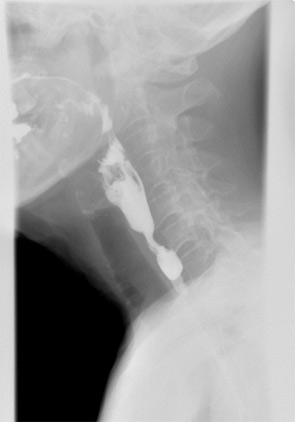 Figure 2
Presentation: A 78-year-old woman presented with a 10-year history of progressive dysphagia for solid foods and pills, with intermittent regurgitation of pills but not food. No aspiration or weight loss was reported. Her past medical history was significant for breast cancer, hypothyroidism and arthritis. No head and neck masses were appreciated. A modified barium swallow (MBS) was obtained (Figures 1 and 2).
—Submitted by Myriam Loyo, MD, and Christine G. Gourin, MD, department of otolaryngology-head and neck surgery, Johns Hopkins Medical Institutions, Baltimore, Md.
What's your diagnosis? How would you manage this patient? Go to the next page for discussion of this case.