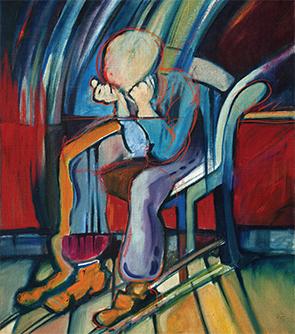 Early in his career, William Lydiatt, MD, a head and neck surgeon, noticed that some of his patients seemed depressed, while others seemed happier, and that his patients' moods didn't necessarily correspond with the severity of their disease or degree of treatment-related disability.
"Some of my patients had undergone chemoradiation, had intact larynxes, and, overall, looked and functioned pretty normally. Others had total laryngectomies and were speaking with an electrolarynx, and they seemed happier. I wondered, 'Is there a difference, or is it just my imagination?'" said Dr. Lydiatt, currently director of head and neck surgery at the University of Nebraska Medical Center in Omaha. "I wanted to know why some people seemingly didn't do as well as others."
Dr. Lydiatt's curiosity spurred him to study the link between mental health and head and neck cancer. What he found was sobering. Published depression rates for patients with head and neck cancer range from 15% to 50% (Clin Adv Hematol Oncol. 2009;7:397-403). The suicide rate for head and neck cancer patients is three to four times that of the general public (JAMA Otolaryngol Head Neck Surg. 2013;139:678-686; JAMA. 2006;296:1716-1717). Depression is not related to the severity of disease or to treatment modality, making it difficult to predict which patients will suffer from depression. Yet, depression has profound effects on patients' lives and may affect their survival, because patients who feel hopeless and depressed may make different treatment decisions than patients who feel a sense of well-being. Depressed patients also take more treatment breaks (Clin Adv Hematol Oncol. 2009;7:397-403).
These issues are not restricted to head and neck cancer. Jeremiah Alt, MD, PhD, assistant professor of the otolaryngology-rhinology and skull base surgery program at the University of Utah, estimates that approximately 30% of patients with chronic sinusitis have depression, while up to 78% percent have reduced sleep quality that significantly impacts their overall quality of life. A 2014 study of depression in adults with hearing loss found that 11.4% of individuals with difficulty hearing also had moderate or severe depression, compared with 4.9% of individuals with excellent hearing (JAMA Otolaryngol Head Neck Surg. [Published online March 6, 2014.] doi:10.1001/jamaoto.2014.42.). People with un- or under-treated allergies have a higher incidence of depression than people who don't have allergies. And patients with sleep apnea who have excessive daytime sleepiness are also prone to depression (PLoS One. 2010; 5:e10211). Anxiety and depression are also commonly seen in patients with tinnitus and sinus and voice difficulties.