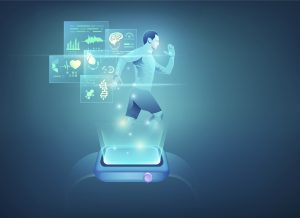 As physicians, we make countless decisions during busy clinical care for every patient, consultation, and surgical case planning. All such decisions are only possible based on countless patient-specific data, including history, exam, lab results, cultures, pathology reports, and imaging studies. The most pertinent are realtime vital signs and measurements during surgery and as monitored in critical care units. All this data can reassure us that our patients are safe and responding to care plans, or they can convey the opposite, demanding new and often immediate decisions and interventions.
Given our absolute dependency on technology as physicians, are we as a workforce "early adopters"? What is our own attitude toward the use of digital technology to monitor and enhance our performance as surgeons? How many of us know or use data on our own vital signs, quality of sleep, emotions, and metrics for our daily physical activities?
This has been the best and worst year of my career. Stopping clinical practice and leaving all that I've ever known has been the worst part, yet my complete dedication to my body and mind has now allowed me to regain a nearly normal range of motion in my right shoulder and has resolved my cervical radiculopathy. I'm grateful that I'm stronger than I've ever been.
I also spent another year reflecting on potential individual and system solutions that can adequately address the invisible injuries to physicians—primarily secondary traumatic stress, post-traumatic stress disorder, physical and emotional exhaustion, anxiety, depression, and moral distress. What I've learned about digital and now wearable technology leads me to believe that they can, and should, be used to improve physician wellbeing and performance.
Thinking about Wearables
This article has been slowly brewing in my mind for most of 2022, but the following events inspired me to finally write it down:
My husband Dave got me an Apple Watch on my birthday (Apple had already shipped 32.1 million devices in the first quarter of 2022—I win for being an ultra-late adopter at age 52!)
My Apple Watch has countless apps that can monitor my wellbeing, including apps that have the ability to detect my heart's sinus rhythm or atrial fibrillation, warn me of excessive loud noise exposure, and measure my commitment to close my three daily activity rings (move, exercise, and stand). I now have virtual coaches and countless workout partners who are accessible to me anytime on the Apple Fitness+ studio for treadmill.
In early 2022, I met Tran Tu Huynh, DO, founder of OpticSurg Inc, Wilmington, Del. A breast oncology surgeon with biomedical engineering, entrepreneurial, and biotechnology background, her company created Vision Beyond, smart glasses coupled with software to enable telecollaboration between healthcare workers and remote providers in a variety of healthcare settings including the hospital, intensive care unit, emergency room, home health, rural health, nursing homes, assisted living, and others.
In October, I joined Hall of Fame sports psychologist Jim Loehr, EdD, along with incredible experts in performance, behavioral health, and technology, in Alpine, N.J., where tennis star Novak Djokovic trains before every U.S. Open. I was blown away to see how technology is used for training and performance for top athletes, the breadth and depth of data and feedback available to them and their coaches, and the use of biomarkers, biochemistry, and visual, auditory, and touch response times for training and performance. Data have profoundly impacted not only athletes but the entire industry, including sponsors and organizations. I learned about PlaySight SmartCourts, an action review system with cameras and sensors all over the court that provides realtime playback with debriefing data, auto status, game management, and immense feedback for the players to improve their performance instead of simply repeating their actions with less-than-predictable or measurable progress.
I had several recent conversations with Sarah Bowe, MD, and Natalie Krane, MD, both of whom were super early adopters of wearable technology.
As of this writing, I'm currently reading a book for one of my master of medical management courses called, "Digital to the Core: Remastering Leadership for Your Industry, Your Enterprise, and Yourself" by Graham Waller and Mark Raskino. The book highlights countless examples of how tiny sensors are now part of many products and generate so much data that provide the ability to see new patterns and variations. The ability to connect things to the Internet is used by all of us on daily basis as we control their operations remotely and manage our surroundings with so much precision. Dave controls nearly our entire house, including the thermostat, indoor lights, lawn irrigation, music, computers, and internet connections, even when we're thousands of miles away.
In November 2022, Mark Linzer, MD, and his colleagues published an article in JAMA Health Forum about trends in clinician burnout with associated mitigating and aggravating factors during the COVID-19 pandemic (JAMA Health Forum. 2022;3:e224163). The study surveyed 20,627 clinicians across 120 large U.S. healthcare organizations between February 2019 and December 2021 (67% physicians, 51% females, 66% White). Burnout rates increased from 49% in 2019 to 60% by the end of 2021.