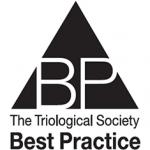 TRIO Best Practice articles are brief, structured reviews designed to provide the busy clinician with a handy outline and reference for day-to-day clinical decision making. The ENTtoday summaries below include the Background and Best Practice sections of the original article. To view the complete Laryngoscope articles free of charge, visit Laryngoscope.
Background
Advanced head and neck cancer (HNC) confers a challenging prognosis. Patients with advanced HNC have five-year survival rates less than 50% compared to those presenting with local disease, in which five-year survival is approximately 80%. Furthermore, late-stage disease indicates management that differs from that for early disease. Thus, accurate pretreatment staging is critical in newly diagnosed HNC patients. Clinical workup has traditionally involved endoscopies and imaging, via computed tomography (CT) and/or magnetic resonance imaging, in addition to the physical exam. With the emergence of new technologies, this process has evolved to include advanced imaging modalities such as positron emission tomography (PET).
A literature review reveals a fair amount of research into the use of PET scans in head and neck cancer. This modality has demonstrated improved sensitivity for both primary site evaluation and distant disease detection compared to conventional workup. Despite this, the question remains as to whether all patients diagnosed with HNC should receive a PET scan during the staging workup. We investigated the literature to determine which patients with HNC are likely to gain the most benefit from pretreatment PET pertaining to detection of distant metastases, discovering synchronous primary tumors, and effects on upstaging.
Best Practice
The use of PET scan is recommended at diagnosis for patients presenting at clinical stages III and IV. This is supported by the likelihood of one or more of the following results after PET scanning: identification of distant metastases, discovery of synchronous primary tumors, and/or upstaging. Although the data are less robust, stage II disease appears to benefit moderately due to the potential for upstaging to stage IV disease. The limited existing data for stage I disease suggest this population is the least likely to benefit from PET. Therefore, PET scanning can be omitted from the workup of these patients to avoid unnecessary expenditures and possible complications from false positives that require further workup. Of note, these recommendations are based on studies done under the previous (seventh) edition of the American Joint Committee on Cancer staging system. Physicians should be aware that some previously classified stage III and IV cancers would, in some circumstances, be classified as stage I under the new system. Finally, despite modern imaging advances, upstaging or downstaging based on pathologic findings remains common, and clinicians must remain vigilant for this (Laryngoscope. 2019;537–538).