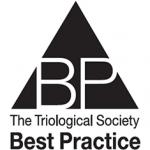 TRIO Best Practice articles are brief, structured reviews designed to provide the busy clinician with a handy outline and reference for day-to-day clinical decision making. The ENTtoday summaries below include the Background and Best Practice sections of the original article. To view the complete Laryngoscope articles free of charge, visit Laryngoscope.
Background
Following definitive treatment of head and neck squamous cell carcinoma (HNSCC), the effort of the otolaryngologist shifts to detection of residual or recurrent disease. The majority of recurrences, particularly in patients with advanced disease, occur within the first two posttreatment years. The imaging modalities used in surveillance imaging include computed tomography (CT), positron emission tomography (PET), magnetic resonance imaging, and ultrasound. Research in the last decade has demonstrated the utility of combined PET/CT in posttreatment surveillance. Whereas PET/CT has become increasingly utilized for posttreatment surveillance imaging, there is no clear consensus when these studies should be obtained as surveillance in asymptomatic individuals. This review describes the evidence surrounding the timing of surveillance scans to detect residual or recurrent HNSCC.
Best Practice
Whole body PET/CT imaging should be performed on all patients 3 to 6 months postcompletion of definitive therapy to assess for primary recurrence and distant disease, with a positive scan at this interval portending a worse overall survival. Surveillance imaging has a much higher negative than positive predictive value. The literature does not currently support any further imaging in a clinically negative patient past this initial posttreatment scan. To further elucidate the role of interval surveillance scans, imaging methods should be standardized and prospective studies involving multiple institutions should be performed, with attention to survival and cost-effectiveness analysis (Laryngoscope. 2017;127:533–534).