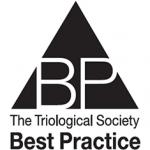 TRIO Best Practice articles are brief, structured reviews designed to provide the busy clinician with a handy outline and reference for day-to-day clinical decision making. The ENTtoday summaries below include the Background and Best Practice sections of the original article. To view the complete Laryngoscope articles free of charge, visit Laryngoscope.
Background
Cochlear implantation (CI) offers the opportunity to restore sound and auditory speech perception for patients with significant sensorineural hearing loss. Soft surgical techniques offer the opportunity to preserve natural hearing. Additionally, corticosteroids may improve hearing preservation (HP) by reducing inflammation in the cochlea perioperatively.
Best Practice
There is a need for more rigorous study into perioperative steroid administration for HP in CI given the small sample sizes, significant heterogeneity in HP assessment, audiologic follow-up, and electrode type. Nevertheless, there is evidence that steroid use may be beneficial. The Cho et al. study (Audiol Neurotol. 2016;21:178–186) suggests that a combination of preoperative systemic steroids with topical round window application may provide durable improvement in HP, though the steroid group received only lateral wall electrodes, while the control group received mostly perimodiolar arrays, possibly accounting for this difference. The Kuthubutheen et al. study (Audiol Neurotol. 2018;22:292–302) suggests there may be a short-term benefit for IT steroid injection one day prior to CI, but this effect was not present after 12 months. The Skarżynska  et al. (Med Sci Monit. 2018;24:2437–2445) and Sweeney et al. (Otol Neurotol. 2015;36:1480–1485) studies both support a perioperative regimen of oral steroids, ideally beginning prior to the surgery and continuing after the surgery, which may lead to a prolonged improvement in HP. Therefore, in patients where HP is desired, a perioperative oral steroid regimen should be considered if there are no medical contraindications. While it is possible that IT or topical steroids applied to the round window may be beneficial, there is insufficient evidence that these therapies produce a long-term benefit independent from systemic steroid application. Nevertheless, it would be reasonable to combine topical or IT steroid application with an oral steroid regimen.