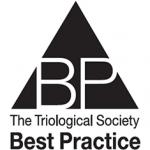 TRIO Best Practice articles are brief, structured reviews designed to provide the busy clinician with a handy outline and reference for day-to-day clinical decision making. The ENTtoday summaries below include the Background and Best Practice sections of the original article. To view the complete Laryngoscope articles free of charge, visit Laryngoscope.
Background
Nasal obstruction caused by a deviated nasal septum is a common problem dealt with in otolaryngology practice that successfully can be corrected with septoplasty in the majority of patients. To decrease the risks of postoperative complications, such as septal hematoma or postoperative bleeding, nasal packing traditionally has been used. However, nasal packing has been associated with increased postoperative pain, which may be due to the pressure exerted by the pack, surgical trauma to nasal mucosa, or the tension of sutures applied to the nasal septum.
Numerous pain medications, such as opioids, nonsteroidal anti-inflammatory drugs, acetaminophen, and regional blocks with local anesthetics, are prescribed to patients for acute postoperative pain in general. However, all these agents have potential side effects, such as nausea, vomiting, urinary retention, sedation, and respiratory depression.
Pages: 1 | 2 | Single Page