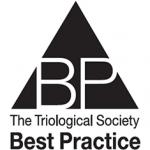 TRIO Best Practice articles are brief, structured reviews designed to provide the busy clinician with a handy outline and reference for day-to-day clinical decision making. The ENTtoday summaries below include the Background and Best Practice sections of the original article. To view the complete Laryngoscope articles free of charge, visit Laryngoscope.
Background
Historically, otolaryngologists have been concerned about the potential detrimental effects of pediatric nasal surgery on the nasoseptal growth process. Septal cartilage is important for the development of the midface, and pediatric septoplasty was reserved for patients with functional problems secondary to congenital anomaly, tumor, or septal hematoma/abscess. More recently, there has been mounting evidence that the septum can be repaired without compromising facial development. In fact, a deviated septum causing nasal airway obstruction (NAO) represents an increasingly compelling indication to perform septoplasty. Otolaryngologists report functional improvement and patients report quality-of-life (QOL) improvement following septoplasty. However, high-quality guidelines for when to perform pediatric septoplasty are lacking. This review seeks to evaluate the current evidence for pediatric septoplasty, focusing on the indications to perform septoplasty and the most appropriate timeline for surgical intervention.
Best Practice
Pediatric septoplasty may be safely performed without significantly affecting future nasal and facial growth. Septoplasty should be performed in patients with functional problems related to congenital anomalies or trauma, whereas a deviated septum causing NAO symptomatology also represents a reasonable and supported cause for early septoplasty in children as young as six years of age. Endoscopic septoplasty has not been shown to cause a change in postoperative nasolabial angle. Anthropometric studies suggest nasal growth is completed around 14 years of age in females and 15 years of age in males. However, in appropriate situations, pediatric septoplasty should not be deferred until adolescence. Some believe that conservative management of septal deviations may lead to increased facial asymmetry. More clinical studies are required to determine evidence for best timeline for correction in younger children. Septoplasty has been shown to improve QOL measures on VAS. Further research will likely focus on characterizing patient-reported outcome measures of septoplasty
(Laryngoscope. 2019;129:1489–1490).