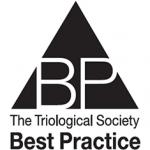 TRIO Best Practice articles are brief, structured reviews designed to provide the busy clinician with a handy outline and reference for day-to-day clinical decision making. The ENTtoday summaries below include the Background and Best Practice sections of the original article. To view the complete Laryngoscope articles free of charge, visit Laryngoscope.
Background
Olfactory dysfunction in chronic rhinosinusitis (CRS) is among the most prominent manifestations of CRS and contributes to CRS diagnostic criteria. This is particularly true in CRS with nasal polyps (CRSwNP). The detailed mechanism of olfactory dysfunction in CRSwNP is unclear. Leading theories include mechanical obstruction of the airflow to the olfactory neuroepithelium, chronic inflammatory injury to the neuroepithelium, or a combination of both. Impaired olfaction not only leads to major safety concerns but also significantly impacts quality of life (QOL). Thus, it is an important element in several CRS health-related QOL measures.
Endoscopic sinus surgery (ESS) is an effective treatment for medically refractory CRSwNP. The goals of surgery include the removal of polyps obstructing the nasal cavity and sinuses, as well as the creation of patent sinus drainage pathways. These wide sinusotomies facilitate the application of topical postoperative medical treatments designed to minimize disease progression and treat infection. Thus, it is possible that surgery also will improve olfaction. However, evidence supporting olfactory improvement after ESS is conflicting, with estimates of improvements ranging from 25% to 100%.
This review seeks to evaluate the best available evidence, focusing on the change in objective olfactory outcomes in CRSwNP after surgical intervention.
Best Practice
CRSwNP might be the most surgically responsive group in CRS in that current evidence supports short-term olfactory improvement after ESS in the treatment of CRSwNP. However, there is a lack of consensus on the extent of surgical intervention required to achieve improvement in olfaction. Also, variability in perioperative medical therapy, patient compliance, and severity of preoperative disease are factors that meaningfully impact the treatment outcome and are poorly adjusted for in the literature. When considering ESS, patients may be counseled regarding the unpredictable olfaction outcome after surgery, especially for the long-term, due to confounding factors such as medical treatments and variable disease severity.
In order to reach solid conclusions on the role of ESS on olfaction, the literature needs high-level and well-powered studies comparing olfaction outcomes of medical and surgical interventions separately, with consistent olfaction measures and long-term follow-up. We also suggest having a clear classification system of the extent of surgical intervention that is correlated with preoperative condition to better identify the surgery with the best olfaction outcomes (Laryngoscope. 2017;127: 2203–2204).