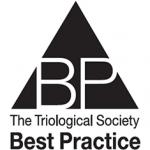 TRIO Best Practice articles are brief, structured reviews designed to provide the busy clinician with a handy outline and reference for day-to-day clinical decision making. The ENTtoday summary below includes the Background and Best Practice sections of the original article. To view the complete Laryngoscope articles free of charge, visit The Laryngoscope.
BACKGROUND
Vestibular schwannoma (VS), a benign tumor of the Schwann cells of the vestibular nerve, is the most common intracranial tumor of the cerebellopontine angle. VS patients classically present with unilateral hearing loss, dizziness, and tinnitus, all of which are debilitating symptoms resulting in poor quality of life (QOL). The treatment options for VS include clinical surveillance with interval magnetic resonance imaging, microsurgery, and radiosurgery. Stereotactic radiosurgery (SRS), a form of radiosurgery that includes Gamma Knife surgery (GKS) and linear accelerator-based therapies, is a noninvasive technique with favorable tumor control rates and minimal morbidity. Compared to external beam radiation, SRS allows treatment of difficult-to-access regions while minimizing radiation to adjacent healthy tissue, thereby reducing the likelihood of functional damage. This is particularly important given the fact that unintentional radiation dose to nearby structures, including the facial nerve, cochlea, semicircular canals, and vestibules, can lead to facial nerve palsy, hearing loss, dizziness, and imbalance. GKS treatment plans routinely minimize cochlear radiation dose to <4 Gy, as low cochlear dose has been shown to be crucial for long-term hearing preservation. However, the vestibular system is not similarly spared, and anecdotally, it has been suggested that SRS worsens vestibular symptoms. In this Best Practice, we survey the literature to determine if SRS worsens vestibular symptoms after treatment.
BEST PRACTICE
SRS for the treatment of VS can be associated with increased balance symptoms, often within the first six months after treatment. The impact of age and tumor size on outcomes is conflicting. Four of the five studies we examined utilized dizziness-specific questionnaires such as the Dizziness Handicap Inventory (DHI), with one study reporting the incidence of vestibular symptoms. Overall, there is a significant need for the publishing of better-quality studies, as the currently published literature regarding post-SRS vestibular symptoms is limited both qualitatively and quantitatively. An important area of study includes the impact of radiation dose on the vestibule and semicircular canals on post-SRS gait and balance function.