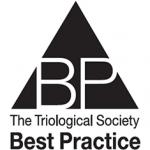 TRIO Best Practice articles are brief, structured reviews designed to provide the busy clinician with a handy outline and reference for day-to-day clinical decision making. The ENTtoday summaries below include the Background and Best Practice sections of the original article. To view the complete Laryngoscope articles free of charge, visit Laryngoscope.com.
Background
Since the use of radiosurgery to treat vestibular schwannoma (VS) has only become widespread over the last several decades, we are just now beginning to see the long-term outcomes and side effects of this treatment. One particularly concerning complication is malignant transformation of a benign lesion. Although the malignant-inducing potential of radiation is well documented for traditional radiation therapy, there are limited data available regarding this complication in the context of stereotactic radiosurgery for vestibular schwannoma. Compared to standard radiation therapy, the irradiated volume with radiosurgery is significantly smaller, and the high single doses given to this small target should theoretically lead to cytotoxicity and not mutagenicity. However, there have been several recent case reports in the literature of skull base malignancies following stereotactic radiosurgery.
Best Practice
Radiosurgical treatment of vestibular schwannomas is safe and effective. The risk of malignant degeneration is acceptably low for the majority of patients. Caution is particularly required when counseling young patients, patients with genetic susceptibility, and patients with large tumors (Laryngoscope. 2015;125: 1761–1762).