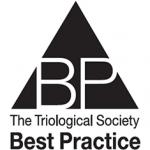 TRIO Best Practice articles are brief, structured reviews designed to provide the busy clinician with a handy outline and reference for day-to-day clinical decision making. The ENTtoday summaries below include the Background and Best Practice sections of the original article. To view the complete Laryngoscope articles free of charge, visit Laryngoscope.
Background
Obstructive sleep apnea (OSA) is common, affecting 1% to 4% of the pediatric population. OSA in children is typically caused by adenotonsillar hypertrophy, but additional sites of upper airway obstruction, including sleep-dependent laryngomalacia, have been recognized. Adenotonsillectomy remains the first-line treatment for OSA; however, in certain patients, supraglottoplasty (SGP) may be effective in improving polysomnography (PSG) measures. Drug-induced sleep endoscopy (DISE) has been used to identify subsites of obstruction for surgical intervention in children with OSA. It is unclear if DISE is a reliable tool for identifying sites of obstruction or if resultant interventions improve polysomnography measures. For older children with minimal adenotonsillar tissue or those who have previously undergone adenotonsillectomy, the effect of SGP on PSG measures is incompletely elucidated. Additionally, timing of SGP in patients with congenital or sleep-dependent
laryngomalacia is not standardized. Furthermore, congenital and sleep-dependent laryngomalacia is often seen concomitantly with comorbidities such as hypotonia, congenital cardiac disease, severe gastroesophageal reflux, and other conditions associated with neurologic compromise. These conditions can lead to refractory obstruction despite resolution of supraglottic collapse.
Best Practice
Current retrospective studies and meta-analyses support the thesis that SGP improves PSG measures in children with congenital laryngomalacia and sleep-dependent laryngomalacia. The permanent, lasting effects of supraglottoplasty on sleep is unknown. Further prospective studies are necessary to evaluate the true effect of SGP compared to other treatment choices (Laryngoscope. 2019;129:285–287).