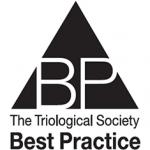 TRIO Best Practice articles are brief, structured reviews designed to provide the busy clinician with a handy outline and reference for day-to-day clinical decision making. The ENTtoday summaries below include the Background and Best Practice sections of the original article. To view the complete Laryngoscope articles free of charge, visit Laryngoscope.
Background
Facial nerve paralysis (FNP) is a potential complication following parotid surgery. Despite meticulous dissection, identification of key landmarks, and gross preservation of neural tissue, the incidence of transient FNP following parotidectomy varies from 12% to 40%. Although independent tumor and patient risk factors (tumor size, pathology, recurrent disease, deep lobe location, nerve involvement, revision surgery, radiation therapy) may alter prognosis, attempts to improve facial nerve outcomes are based on literature supporting anti-inflammatory modalities such as corticosteroids.
The use of corticosteroids has been shown to improve outcomes in spontaneous idiopathic facial nerve (Bell) palsy, the etiology of which is rooted in an inflammatory pathway, leading to edema and ischemia to portions of the facial nerve. Although corticosteroids are frequently successful for treating FNP due to primary inflammatory and idiopathic etiologies, postoperative FNP is also subject to iatrogenic mechanical forces during dissection, with potential for microvascular or microstructural neural injury. Because the effects of FNP alter patient physical and social well-being, attempts to prevent or mitigate nerve impairment following dissection are paramount. Therefore, we sought to investigate the literature for evidence detailing the impact of perioperative corticosteroids on facial nerve outcomes following parotid surgery.
Pages: 1 | 2 | Single Page