Drop-in retail clinics staffed by nurse practitioners or physician's assistants may represent a fundamental and permanent change in how patients receive minor primary care in this country, providing affordable care and convenience-but do they serve the long-term health interests of otolaryngology patients and the doctors who treat them?
The answer appears to be yes at this point in time, indicated Jack B. Anon, MD, Clinical Professor at the University of Pittsburgh School of Medicine (Pa.). Most ENT doctors don't have the setup to see minor ear, nose, and throat emergencies on a routine basis, said Dr. Anon, who also has a private otolaryngology practice in Erie, Pa.
Because otolaryngologists-head and neck surgeons are specialists, continued Dr. Anon, they are going to be booked up well in advance with referrals from primary care physicians, so patients who have acute problems are usually going to end up in the family doctor's office, and many of them will be seen by nurse practitioners or physician's assistants.
So from our point of view as ENT doctors, a medical walk-in clinic is not going to have an impact on the economics of ENT; and as a matter of fact, if you talk to patients, very often now in our community especially, we find that if someone has an ear infection and they went to a family doctor, usually they were seen by a nurse practitioner or a physician's assistant anyway.
Clinics May Offer Collaboration, not Competition
So is there a difference between a nurse practitioner or physician's assistant in a doctor's office and those in a CVS or Wal-Mart pharmacy? I think the answer is probably no, there is not a whole lot of difference, Dr. Anon said, and these walk-in clinics can serve the same purpose, if done properly.
Assuming that walk-in clinics are going to have a high quality of care and that there will be physicians available to answer questions and deal with complex problems, the clinics are actually a very reasonable medical option in today's day and age, Dr. Anon said.
I think there are going to be some physicians who see these clinics as competition, Dr. Anon said. However, I don't think the ENT doctor is going to see this as competition. The otolaryngologists in the community can become involved with the clinics, just as they would with a referring primary-care physician-they can offer assistance if needed in the otolaryngology area, and even give presentations on the latest advances in otolaryngology, including situations when it is advisable to refer a patient to an otolaryngologist-head and neck surgeon.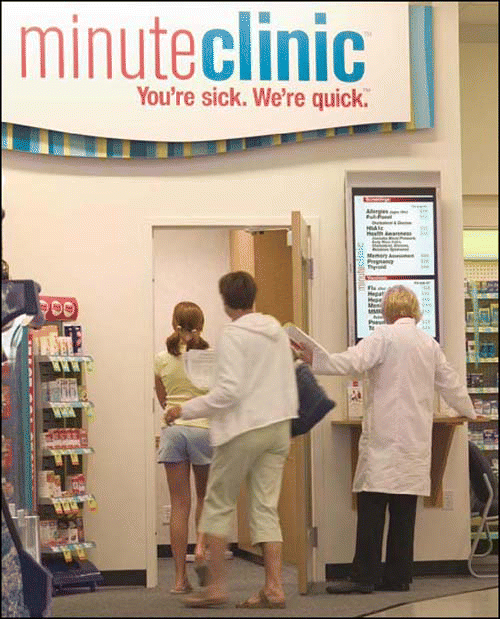 click for large version
Figure. Eighty-one MinuteClinics occupy 75 square feet in CVS Pharmacies in major cities in the South and Midwest. Some 150 more are set to open by the end of 2006.
The Clinics
These drop-in clinics, including Minneapolis-based MinuteClinic and Take Care Health Systems of Conshohocken, Pa., are generally located in pharmacies, shopping malls, and retail stores.