Most otolaryngologists-head and neck surgeons want to see the efficacy of endoscopy proven via cure rates rather than what might be technically feasible, noted Dr. Osguthorpe. So far, sufficient data do not exist to resolve the controversy surrounding the treatment of malignant sinonasal tumors, he said.
Additionally, one major caveat to keep in mind when evaluating available data is that many studies of endoscopic procedures are performed in conjunction with open surgery or radiation, said Dr. Osguthorpe, so separating endoscopic-alone from endoscopically-assisted is critical. The titles of some publications do not make this distinction, he added.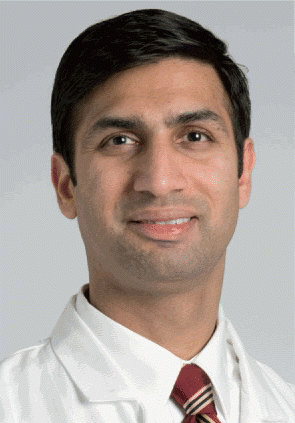 Pete Batra, MD, said that not every tumor is best managed by an only an endoscopic or an open approach. Surgeons may opt to combine the two techniques to remove tumors.
In one small study (Am J Rhinol 2005; 19(5):521-8), Dr. Batra and his colleagues found no significant differences in operative time, estimated blood loss, or hospital stay between a group of nine patients managed with a minimally invasive endoscopic resection of anterior skull base tumors and a group of 16 patients treated with traditional craniofacial resection.
Major complications were encountered in 22% and 44% of the patients in the endoscopic and open surgery groups, respectively. Thirty-three percent of patients who had undergone endoscopy and 36% of those in the open surgery group experienced disease recurrence. Mortality rates were 0% and 27% in the endoscopic and open groups, respectively.
Additionally, Dr. Snyderman and his colleagues have published data on endoscopic resection of esthesioneuroblastoma (Am J Rhinol 2009;23:91-4). The problem is we don't have long follow-up, so no one can say it's better than traditional surgery yet, but early data are encouraging, he observed.
In this study, 19 patients underwent primary endoscopic endonasal anterior skull base resection. Complete resection and negative intraoperative resection margins were achieved endoscopically in 17 individuals. Of the two other cases, one patient required a craniotomy to complete the resection of a positive lateral dual margin, and the other patient had positive margins at the orbital apex. All patients tolerated the endoscopic procedure, and there were four cerebrospinal fluid (CSF) leaks. All cases were disease-free at the most recent available follow-up.
Open surgery to treat esthesioneuroblastomas has already been shown to have an impressive disease-free survival, noted Dr. Osguthorpe. Specifically, in a study by Levine et al (Arch Otolaryngol Head Neck Surg 2006;132:134-8), 50 patients with esthesioneuroblastoma were treated with a standardized protocol during a 28-year period. Patients with Kadish A or B disease underwent preoperative radiotherapy followed by craniofacial resection. Those with stage C disease received preoperative sequential chemotherapy and radiotherapy followed by a craniofacial resection. The disease-free survival was 86.5% at five years and 82.6% at 15 years.