Elicit Complete Information
The first diagnostic tools are a patient's self-report, the history and the physical examination. Peter C. Belafsky, MD, PhD, associate professor and director of the Voice and Swallowing Center at the University of California at Davis (UC Davis), and colleagues advocate assessing the severity of patients' symptoms. They have developed and validated a 10-question patient self-report dysphagia-specific outcome survey called the Eating Assessment Tool, or EAT-10. The tool, which is scored by adding patients' ratings of their symptoms, can help establish initial symptom severity, direct treatment and evaluate therapy and surgical outcomes. An EAT-10 score of three in the setting of mild inflammation on esophagoscopy, for instance, may indicate a mild, non-erosive case of GERD amenable to management with behavioral modifications. A score of 20 indicates that dysphagia is severely affecting the patient's quality of life and warrants an aggressive team approach for diagnosis and treatment. The tool helps to track outcomes, because it can be quickly administered and scored at each patient visit.

If you want to stack the deck in the patient's favor, you need to know as much of the relevant history as you possibly can. A pre-fluoro history and clinical exam is essential.
—Rebecca J. Leonard, PhD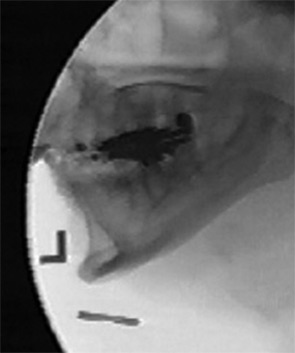 ®2004 QUINTIC CONSULTANCY LTD.
Figure 1. Fluoroscopic image, illustrating the pharynx at maximum constriction.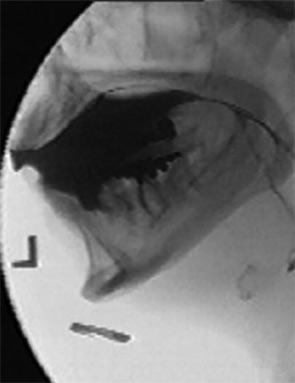 ®2004 QUINTIC CONSULTANCY LTD.
Figure 2. Fluoroscopic image, illustrating the pharynx at rest.
Maximizing the MBS
The MBS has become a staple in assessing the safety and effectiveness of oral and pharyngeal swallow. "But if that's all you're doing with this study, then you're underutilizing it," said Rebecca J. Leonard, PhD, professor of otolaryngology at the UC Davis Medical School and Voice and Swallowing Center. She and her colleagues recommend adhering to a standardized protocol that involves giving a patient exact amounts and consistencies of boluses of barium substances in graduated fashion, a procedure first advocated by Jeri Logemann, PhD, a professor in the departments of Otolaryngology-Head and Neck Surgery and Neurology at Northwestern University who developed the MBS (Otolaryngol Head Neck Surg. 1997;116(3):335-338). Using a standardized protocol allows a uniform means of assessing patients' responses to treatment or changes over time and "adds greatly to the value of this study," Dr. Leonard said.
Because any MBS study is a very brief sample of the patient's swallow function, critical events, such as aspiration, may be missed unless they occur on every swallow. By extracting objective measures of timing and displacement associated with swallowing, the UC Davis Center has been able to develop predictive risk profiles. For instance, using a surrogate measure of pharyngeal strength called the pharyngeal constriction ratio, which is a comparison of the maximally constricted pharynx during a swallow to its fluoroscopic appearance when unconstricted [see Figs. 1 and 2, see p. 16], the team is able to assess a patient's risk of aspiration even if it is not observed during the study.
Pages: First | ← Previous | 1 |2 | 3 | ... | Next → | Last | Single Page