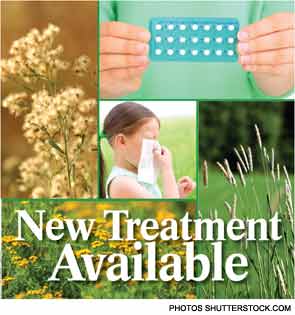 In April, the U.S. Food and Drug Administration (FDA) approved three sublingual oral immunotherapy (SLIT) agents, the first to be approved in the United States.
Oralair, from GREER Laboratories, which is indicated for grass pollen-induced allergic rhinitis with or without conjunctivitis confirmed by positive skin test or in vitro testing for grass pollen-specific immunoglobulin E antibodies for any of five grass species (Sweet Vernal, Orchard, Perennial Rye, Timothy, and Kentucky Blue grasses), received FDA approval on April 1 of this year. Two weeks later, the FDA approved Merck's Grastek, which treats those allergic to Timothy grass. And, just three days later, the FDA gave the go-ahead to Merck's Ragwitek, a treatment for ragweed allergies.
These three medications are the first FDA-approved allergy treatments to be administered sublingually to help desensitize a patient to a particular allergen or group of allergens. In the U.S., an estimated 7.5 million people are allergic to Timothy and other grass pollens, while approximately 4.5 million people are allergic to short ragweed pollen.
How They Work
"This is a revolutionary change in the way the patient undergoes desensitization to allergens by providing immunotherapy, yet the effects of providing it appear to be essentially the same as injection therapy," said Bradley Marple, MD, professor and vice chairman of the department of otolaryngology-head and neck surgery and an associate dean for graduate medical education at the University of Texas Southwestern Medical Center in Dallas. Dr. Marple is also a member of ENTtoday's editorial advisory board.
Historically, allergy treatment has been a three-tiered process, said Dr. Marple. The first tier involves avoiding the allergen altogether, though some, like pollen, can be hard to hide from as the spring season unfolds. The second tier involves the use of nasal steroids, nasal irrigation, and antihistamines. If allergy symptoms persist, immunotherapy is recommended. "This translates into patients needing to be somewhat tethered to a physician's office, and it's kind of a hardship for patients who live removed from the office and who have busy schedules," said Dr. Marple.
There's also the fear factor. "Many patients do not pursue immunotherapy because some patients don't like needles and are scared of shots," said Nathan Sautter, MD, an assistant professor of otolaryngology at Oregon Health and Science University in Portland.
But with oral immunotherapy, the antigens are absorbed through the mucosa and then migrate through the lymphatic system and into the lymph nodes, where they works with the immune system to help desensitize the body to an allergen, said Dr. Marple. The patient only needs to be observed for potential anaphylaxis after the first pill is taken; if there's no reaction, the patient can self-administer at home for the remainder of the treatment. The regimen typically starts 12 to 16 weeks before the grass/ragweed season begins and may continue for up to three years.