Even when their cancers are cured or in remission, patients with head and neck cancers face multiple challenges that can impinge on their quality of life (QOL). These patients cannot easily mask effects of their treatments: Surgery can result in speech dysfunction and/or facial disfigurement, and even organ-sparing chemoradiation treatments produce dysphagia, dry mouth, and dental damage. As they adjust to the new normal of life after cancer treatment, many head and neck cancer patients may become anxious, isolated, and depressed. With any change comes loss, said Jacqueline Zahora, LCSW, an oncology social worker with the New York-based cancer support organization Cancer Care. A lot of these patients are grieving for the way they used to be, or the way they used to look, or the way they used to be able to interact with the world.
Whereas the first goal of treatment for head and neck cancers is to cure the cancer, the second is to mitigate side effects, said Mike Yao, MD, Assistant Professor and Program Director of the Department of Otolaryngology, Head and Neck Surgery at the University of Illinois in Chicago. Whether part of the treatment team or as referring physicians, ENT specialists can apprise themselves of the challenges facing patients and the array of medical and psychosocial supports available to them.
Counseling before Treatment
It is important, said William I. Wei, MD, Professor of Surgery, and W. Mong Chair in Otorhinolaryngology at the University of Hong Kong, to tell patients of all possible side effects before treatment begins. Standard treatments for cancers of the larynx and pharynx usually entailed a laryngectomy and resultant loss of normal speech. Now, with targeted chemoradiation, organ preservation is accomplished. But the organ preservation comes with a price: Sometimes function is affected.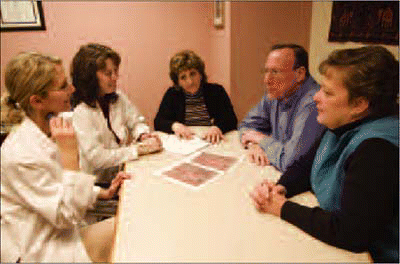 click for large version
Figure. Oncology Social Worker Dorothy Gold (center) consults with colleagues and clients at the Milton J. Dance Jr. Head and Neck Rehabilitation Center.
At the Queen Mary Hospital in Hong Kong, where Dr. Wei is Chief of Service in the Department of ENT, treatment complications tend to set in early for those with large cancers of the head and neck treated with concurrent chemotherapy. Fibrosis and edema affect swallowing, and when they cannot swallow or eat, patients become depressed.
Quality of life-wise, dysphagia is probably one of the worst things that can happen to these individuals, said Natasha Mirza, MD, Associate Professor in Otolaryngology, Head and Neck Surgery at the University of Pennsylvania and Director of the Penn Center for Voice and Swallowing. At her center, she has followed patients treated with radiosensitizing chemotherapy and found that approximately 87% of patients required gastrostomy tube placement with 23% feeding tube-dependent 12 months after completion of their treatment.
That's why patients have to be made aware of the potential risks, she said. Sometimes there is a choice between surgery versus chemoradiation. It is wonderful that chemoradiation offers organ preservation, but we have to make them aware that this may come at a price: that you may have the organ preserved, but it may not be functional.
Ms. Zahora, who has specialized in QOL issues for head and neck cancer patients at Cancer Care, said that patients often express feelings of isolation once they have completed treatment. The physician was very involved in their care during the active treatment phase and may no longer be as accessible as before. However, patients often have need for psychosocial services to help them deal with depression, and for monetary support services to deal with long-term side effects from radiation, such as tooth deterioration.
Benefits of Dedicated Centers
It is sometimes tempting for patients to opt for the convenience of undergoing chemoradiation in the community, but patients can often benefit by traveling to larger cancer centers for treatment. The most important thing about coming to a bigger center like this is that our radiation people only do head and neck radiation, said Dr. Yao. The nasopharynx is close to the brain, eyes, and many important structures, so planning and execution of radiation are very critical.
Another benefit is that patients have access to the multidisciplinary team, including speech-language pathologists and oncology social workers. In tertiary centers, it's easier to have collaborations because everyone is present and they're already part of a tumor board, noted Dr. Mirza.
At the Milton J. Dance Head and Neck Rehabilitation Center, housed at the Greater Baltimore Medical Center, oncology social worker Dorothy Gold, LCSW-C, OSW-C, is part of the multidisciplinary team who care only for head and neck cancer patients. In an endowed program, the team follows patients from time of diagnosis throughout treatment and beyond. Ms. Gold and her colleagues have designed an early interventional approach so that patients and their families get help throughout the diagnosis, treatment, and survivorship continuum. Originally established as a preoperative education and counseling program, the services have now expanded to include patients undergoing chemoradiation. Meeting patients prior to treatment, says Ms. Gold, allows social workers to assess other stressors in the patients' lives, as well as their existing support systems. In that way, they do not have to wait for a crisis to try to help with coping strategies. Anxiety levels of patients and family members have been reduced by employing this method.
Swallowing Interventions
At the University of Pennsylvania Center for Voice and Swallowing, pretreatment counseling sessions with a speech-language pathologist introduce patients to potential side effects of chemoradiation-increasingly the treatment of choice over surgery for these cancers. According to Patricia K. Dooley, MS, CCC, SLP, Interim Director of the Speech-Language Pathology Department, these pretreatment counseling sessions provide an overview of the causes of dysphagia associated with these treatments, as well as the potential signs and symptoms of dysphagia. Patients are also presented with a range of oropharyngeal exercises, which target the tongue, lips, palate, and larynx and are designed to preserve swallowing function. The exercises, explained Dr. Mirza, can diminish the changes of severe fibrosis setting in due to radiation. The object is to help the patient continue to use muscles in the pharynx, thus preventing atrophy, even if he or she is using a feeding tube. With each passing day that they are not using those muscles, it gets less and less likely that they will ever use those muscles again, she noted.
The speech-language pathologists also re-evaluate their patients midway through treatment, when potential side effects of radiation begin to occur. Mucositis, xerostomia, trismus, and edema of the swallowing structures can start to affect patients' swallowing. During this evaluation, patients will be trained in specific postural and swallowing maneuvers, and given food texture recommendations. The goal is to keep patients swallowing safely throughout the course of their treatment. Even if use of a tube becomes necessary for nutritional purposes, patients are encouraged to continue with their exercises. Our ultimate goal, said Ms. Dooley, is to have these patients resume a functional, oral diet.
Combating Isolation, Depression
Even if they are cancer-free after treatment, patients with oral, head and neck cancer fall into significant isolation that comes from not being able to eat by mouth, said Dr. Mirza, because all social activities in almost every society are based around eating. When an individual cannot eat, there is no reason to sit at the table or to sit with your friends or family. That leads to tremendous isolation and depression, and we know that depression can lead to increased morbidity, and poorer outcomes. (See sidebar.)
Helping the Patient
Referring ENTs can help ease the planning, treatment, and follow-up process by attending to a few important details, said Dr. Yao. For instance, he appreciates personal telephone communication from the referring physician. Otolaryngologists in the community can reinforce that patients traveling to a larger cancer center should be certain to obtain complete records. It's very helpful to have all the actual X-rays, the actual pathology slides, and not just the readings from those, he said. Following treatment, the referring physician can help patients who prefer not to travel back to the cancer center for follow-ups. Typical follow-up intervals are every four to six weeks for the first year, every two months for the second year, and every three months for the third year. That's a lot of driving, he noted, especially for someone who's just been through chemotherapy and radiation.
In addition, physicians can also help patients' recovery by learning to assess for the development of depression. While speech and swallowing issues are usually objective findings, QOL issues can be just as debilitating for these patients, said Ms. Gold. Many of them do require emotional support, so finding and being willing to make referrals to psychosocial support services can improve quality of life for these patients.
Psychosocial Supports for People with Oral, Head and Neck Cancer
Swallowing, facial disfigurement, and speech issues cause survivors of oral, head and neck cancer to become self conscious. They start to isolate [themselves], which is the opposite of what they need to do, says oncology social worker Jacqueline Zahora. Patients being treated at major cancer centers or at specialized rehabilitation centers have more access to multidisciplinary services. For patients and their caregivers in the community, the following organizations can be a vital lifeline for creating support networks:
SPOHNC (Support for People with Oral and Head and Neck Cancer), on the Web at www.spohnc.org , offers a free booklet, We Have Walked in Your Shoes: A Resource Guide to Living with Oral and Head and Neck Cancer, a recipe and resource guide (for a $17.50 donation), informational newsletters, access to online support groups, and many of other referral services.
Cancer Care, a nonprofit organization based in New York City, offers phone consultations with trained oncology social workers; in-person, telephone, and online support groups for survivors and caregivers, referrals to support services for help with travel to cancer centers; and limited financial grants for treatment-related issues (such as transportation and childcare costs). Cancer Care is on the Web at www.cancercare.org .
The Milton J. Dance Head and Neck Rehabilitation Center provides support services to patients in the Baltimore area, and offers an email forum for asking questions, links and information via its Web site: www.gbmc.org/mjdancerehab .
The International Association of Laryngectomees provides support, information, and programs, as well as a locator service for finding a local support group, through its Web site: www.larynxlink.com .
To Reach ENToday
For Editorial, Permissions, or Publishing Matters: ENToday, Lippincott Williams & Wilkins, 333 7th Avenue, 19th Floor, New York, NY 10001, Phone: (646) 674-6544, Fax: (646) 674-6500, ENToday@wolterskluwer.com
For Advertising Sales: Michael Guire, Lippincott Williams & Wilkins, 1300 Virginia Drive, Suite 400, Ft. Washington, PA 19034, Phone: (215) 643-8140, Fax: (215) 643-3902, Michael.Guire@wolterskluwer.com
©2007 The Triological Society